Everyone knows you can't trust Donald Trump, but perhaps now, Donald Trump is realizing he can't trust anyone, either.
On Saturday, The New York Times dropped an intriguing story revealing that White House counsel Don McGahn, fearing Trump would throw him under the bus in Special Counsel Robert Mueller's obstruction of justice probe, has been a cooperating witness in the investigation for the past nine months.

In at least three voluntary interviews, McGahn has spoken at length with Mueller's team about Trump for some 30 hours. That's a lot of talking.

According to the report:

Mr. McGahn's cooperation began in part as a result of a decision by Mr. Trump's first team of criminal lawyers to collaborate fully with Mr. Mueller. The president's lawyers have explained that they believed their client had nothing to hide and that they could bring the investigation to an end quickly.
Mr. McGahn and his lawyer, William A. Burck, could not understand why Mr. Trump was so willing to allow Mr. McGahn to speak freely to the special counsel and feared Mr. Trump was setting up Mr. McGahn to take the blame for any possible illegal acts of obstruction, according to people close to him. So he and Mr. Burck devised their own strategy to do as much as possible to cooperate with Mr. Mueller to demonstrate that Mr. McGahn did nothing wrong.
G/O Media may get a commission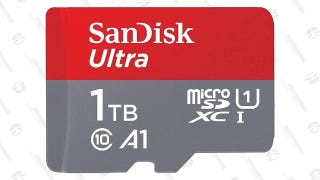 Save $70
SanDisk Ultra 1TB MicroSDXC Card
The Times' story, by Michael Schmidt and Maggie Haberman, said McGahn discussed Trump's firing of former FBI Director James Comey, his pressuring of Attorney General Jeff Sessions to intervene in Mueller's investigations, and his attempts to fire Mueller, among other issues.

Concerned that Trump was setting him up to "take the fall" for any obstruction charges, McGahn told others that he hoped to avoid becoming another John Dean, the former counsel to President Richard Nixon who during the Watergate scandal became a star witness for the prosecution against the disgraced president.

"They didn't know how much I knew. I knew much more than they thought I did," Dean said in an interview with Politico earlier this year about his decision to flip against Nixon.
Dean responded to the news of McGahn's cooperation with the Mueller team by tweeting, "McGahn is doing right!"

The Times' report has some other similarities to Nixon's downfall:

To investigators, Mr. McGahn was a fruitful witness, people familiar with the investigation said. He had been directly involved in nearly every episode they are scrutinizing to determine whether the president obstructed justice. To make an obstruction case, prosecutors who lack a piece of slam-dunk evidence generally point to a range of actions that prove that the suspect tried to interfere with the inquiry.

Mr. McGahn gave to Mr. Mueller's investigators, the people said, a sense of the president's mind-set in the days leading to the firing of Mr. Comey; how the White House handled the firing of the former national security adviser, Michael T. Flynn; and how Mr. Trump repeatedly berated Mr. Sessions, tried to get him to assert control over the investigation and threatened to fire him.
Asked how he would've reacted to a similar situation during the independent counsel investigation of President Bill Clinton, former deputy independent counsel Solomon Wisenberg told the newspaper, "Oh my God, it would have been phenomenally helpful to us. It would have been like having the keys to the kingdom."

The report of McGahn's cooperation follows a tough couple of weeks for Trump, who has seen his former aide Omarosa Manigault-Newman drop a tell-all book about her time in the White House, along with claims that she possesses at least 200 secret recordings she made of Trump and fellow White House staff at the time. Manigault-Newman already has publicly released some of those recordings.

It's not yet clear what's going to happen to McGahn, who as of today is still the White House counsel.