For the past few months Aaron Jay Ledesma has been blogging about his connection to his faith, God, and the Catholic Church. The 23-year-old gay Houston native says he's been looking for signs that God is still with him. He definitely got one last month—by way of a phone call from the White House.
The White House has invited Ledesma and one guest to join President Obama in welcoming Pope Francis to the South Lawn later this month.
"Many religious people seek signs affirming their faith," Ledesma said in a telephone interview Thursday. "This is in a way a miracle," he added.
G/O Media may get a commission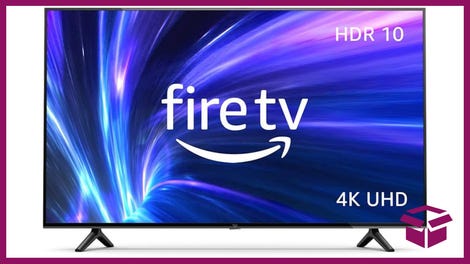 42% Off
Amazon Fire TV 50" 4K Smart TV
Ledesma wrote to President Obama when he heard the pope was visiting the White House. He said he knew he had to be there because the two governing bodies that are close to him would be coming together.
Then on August 13th he got the call. It was an unblocked number. Ledesma says it was the White House Office of Presidential Correspondence telling him the office was moved by his letter and extending an invitation to the ceremony with the pope.
"I thought to myself, 'I hope no one is messing with me and I'm not getting punked.' There's just no words to describe what I felt," Ledesma said.
Ledesma doesn't know if he'll actually get to meet the pope.
"I think I'm being treated like everyone else that's allowed to go," he said. If he does get to meet the pope, Ledesma says he would just hug him and say "thank you for showing love, support, and opening the church to me."
Ledesma was raised in the Catholic Church and attended a Jesuit high school and university. His father is of Mexican descent and his mother is Irish.
"I kind of had a triple whammy as a gay man. I was raised in the South, I'm Hispanic and I'm gay," said Ledesma.
Ledesma came out at the age of 21 and struggled returning to the church. But it was Pope Francis who helped Ledesma feel more welcomed in the church.
During a 12-hour flight to the Vatican from Brazil in July 2013 a reporter asked the pope if she could ask a delicate question. The Italian reporter went on to ask, "How does Your Holiness intend to confront the whole question of the gay lobby?"
The pope replied with words that would mark his more progressive papacy just four months after becoming the pope: "If someone is gay and is searching for the Lord and has good will, then who am I to judge him?"
"The Catechism of the Catholic Church explains this in a beautiful way," the pope said. "It says 'no one should marginalize these people for this, they must be integrated into society,'" he went on to say.
Pope Francis' predecessor, Pope Benedict XVI, was much less accepting, and Pope Francis' comments were enough for Ledesma to strengthen his connection with the church.
"The moving part about that statement is that it's applicable to anyone, That's how we should think about everyone. The message he's trying to share is let's be good people," Ledesma said.
"I think about when I was 13, when I first started realizing that I was gay and feeling like I had no one there for me. I wish I would have had this, powerful people accepting people like me," said Ledesma.
"I hope there's a young LGBT teen out there and feel like they're not alone," Ledesma said.
The Associated Press is reporting Episcopal Bishop Gene Robinson, the first openly gay Anglican bishop, will also attend the ceremony at the White House.
A New York man has launched a petition urging Pope Francis to meet with LGBT Catholics during his visit.
"We want the Pope to lead by example and meet with lesbian, gay, bisexual, and transgender Catholics and their families during his visit. We strongly believe this meeting would promote great healing and reconciliation in our Church and society," Nicholas Coppola wrote in his Change.org petition that launched this week. He's halfway through his goal of 5,000 signatures.
On Thursday, GLAAD and DignityUSA, an organization for LGBT Catholics, also sent a letter to the Vatican requesting a meeting with Pope Francis. The letter was signed by 28 civil rights groups.
Pope Francis does have a history of meeting with LGBT individuals. In July held his first-ever public meeting with a gay activist during a visit to Paraguay.
Thousands are expected on the South Lawn on Sept. 23. More than 13,000 people filled the South Lawn when Pope Benedict XVI visited in 2008, according to the AP.
Ledesma said he plans on wearing his Brooks Brothers suit to the White House ceremony welcoming Pope Francis. He plans on bringing his boyfriend as his guest.