You know the country is in grave danger when White House officials begin telling journalists that they won't quit their jobs because somebody needs to babysit the crazy president.
But that's what is happening following an insane week in which President Donald Trump fanned the flames of hatred by siding with neo–Nazis and Klansmen after the Charlottesville attack that killed protester Heather Heyer, seriously injured several others, and left a nation reeling in crisis. And that was after Trump had brought us to the brink of nuclear war with North Korea.

According to an Axios report, one of the main reasons remaining Trump administration officials are standing up to considerable pressure to resign is "the urgent importance of having smart, sane people around Trump to fight his worst impulses."

One of those officials, all of whom remained unnamed in the report, told Axios, "You have no idea how much crazy stuff we kill." This is a particularly disturbing comment, considering the stuff they didn't kill—the Muslim ban, the draconian and inhumane immigration crackdown, the war on Obamacare, that weird presidential trip to Saudi Arabia.

But according to a source for the report, the immigration issue could have been even worse, with more deportations than already are happening, and Trump's prized multibillion–dollar border wall could have been a big enough issue for the toddler president to push for a government shutdown.

G/O Media may get a commission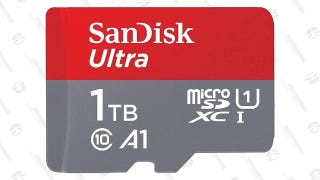 Save $75
SanDisk Ultra 1TB MicroSDXC Card
"Many talk about their reluctance to bolt on their friends and colleagues who are fighting the good fight to force better Trump behavior/decisions," the report also noted.

But before you go sanctifying these people, remember they were willing to work for Trump in the first place, knowing that he is an out–of–control megalomaniac, misogynist, and racist who cares only about himself and his wealthy family (and Vladimir Putin). And Axios also notes that working in the White House is "intoxicating and ego–stroking."

There really is no reason someone like Treasury Secretary Steve Mnuchin, who is Jewish, should stay on Team Trump after the president's despicable behavior this week. Mnuchin was standing beside Trump last Tuesday when the president unleashed a series of unscripted responses to questions from reporters about Charlottesville. In those responses, Trump said there were some "fine people" among the white supremacists at the violent two–day rally, where neo–Nazis chanted, "Jews will not replace us," and he lashed out at anti–racism counterprotesters, many of whom were injured in attacks by white supremacists.

This weekend, Mnuchin rejected calls to resign from his former classmates at Yale, who published an open letter signed by 350 members of the class of 1985.

"We know you are better than this, and we are counting on you to do the right thing," the letter stated.

In a response shared on Twitter on Saturday, Mnuchin's defiance seems disingenuous, and frankly, sad.

"As someone who is Jewish, I believe I understand the long history of violence and hatred against the Jews (and other minorities) and circumstances that give rise to these sentiments and actions," Mnuchin wrote. "While I find it hard to believe I should have to defend myself on this, or the President, I feel compelled to let you know that the President in no way, shape or form, believes that neo–Nazi and other hate groups who endorse violence are equivalent to groups that demonstrate in peaceful and lawful ways."

Mnuchin also said he was "familiar with the culture wars being fought in our country," which, along with other issues, are "far more complicated than we are led to believe by the mass media…"

So, it seems that at least in Mnuchin's case, his intentions might not be so noble. At any rate, maybe it's a better idea to get rid of this president, who needs minders to prevent him from further destroying the country. And then we won't need his staff anymore, either.