On June 15, 2012, President Barack Obama announced one of the biggest immigration policy changes in decades. Young undocumented immigrants who met certain qualifications would be eligible to live and work in the U.S. without fear of deportation.
The policy is nearing its two-year anniversary, but it's a bittersweet milestone.
More than a dozen young activists blocked a road outside the White House on Thursday, demanding deportation relief for immigrants in the country without authorization. The activists, some of whom are currently enrolled in the president's deportation relief program, called Obama "deporter in chief" and a "coward."
Protesters block a street near the White House. (Credit: Ted Hesson)
If these young people have benefited from the program, then why are they protesting the president's policies?
G/O Media may get a commission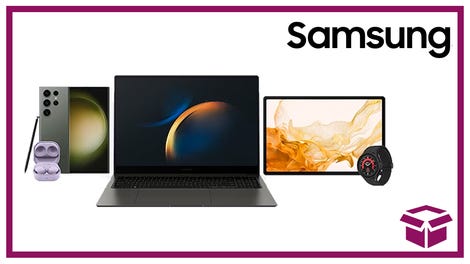 24 hour deals
Discover Samsung - Daily Deal
First of all, the program, called Deferred Action for Childhood Arrivals (DACA), isn't a permanent fix. It only provides deportation relief in two-year intervals. The Obama administration today rolled out the process for individuals with DACA to renew their eligibility.
To enact permanent relief, Congress would need to pass an immigration reform bill, and Republicans in the House of Representatives haven't shown willingness to move legislation.
Passing a bill through the GOP-controlled House appears to be a lost cause this year. That means executive active by Obama is now the best hope for people who want a change to immigration policy.
The activists outside the White House on Thursday, led by the immigrant-youth organization United We Dream, want Obama to expand his deportation relief program to include family members of current recipients.
"DACA is a sign of success," said Lorella Praeli, the director of advocacy and policy for the group. "If that works, the same protection can be extended to our parents. They are not any less deserving than us."
Immigrant-rights activists aren't the only ones unhappy with the president's short-term policy fixes.
Republicans have criticized what they call "amnesty" measures by Obama, saying that more welcoming immigration policies are working as a magnet to draw migrants from Central America to the U.S., particularly children traveling alone.
The New York Times reported on the phenomenon this week and leaked photos published by Breitbart today supposedly show images of crowded rooms where migrant children have been held after being apprehended at the border.
Rep. Bob Goodlatte (R-Va.), chairman of the House Judiciary Committee, which deals with immigration issues, issued a statement on Thursday about the surge in child border crossings.
"Word has gotten out around the world about President Obama's lax immigration enforcement policies and it has encouraged more individuals to come to the United States illegally, many of whom are children from Central America," he said.
Of course, there are other factors that are sending migrants to the U.S. Gang-related violence and poverty have plagued countries like Honduras, Guatemala and El Salvador, driving migrants from their homes in search of refuge further north.
"They're seeking a better life and they're seeking safety," Cristina Jimenez, the managing director of United We Dream, said at the protest on Thursday. "And we come to the United States and we have families here who are then being terrorized by deportation policies."
While the president has given deportation relief to some young people, he's been tough by some measures of immigration enforcement. He's removed people from the country at a record clip and sent more people caught at the border through the criminal justice system.
Still, Obama has given indications that he's prepared to grant some measure of immigration relief in the absence of a legislative fix. In March, he announced that his administration would examine how enforcement could be handled "more humanely."
In addition, the Pentagon is preparing to move forward with a policy change that would allow young undocumented immigrants to serve in the military
Sounds promising, right? Well, it did until the White House announced that it was delaying both the review of deportations policies and the military policy reform. The stated reason: to give Republicans more time to work on immigration reform legislation in the House.
There's almost no chance of that happening, though. The delay will push back any announcement deeper into the primary season before the 2014 midterm elections, when the political impact could be stronger. In the meantime, thousands of people could be deported before the results of the review are eventually announced.
For one of the protesters, 24-year-old New Jersey resident Oneeka Johnson, the need for deportation relief is personal. Her father was deported to his native Jamaica several weeks ago.
Oneeka Johnson, center (Credit: Ted Hesson)
"The president needs to stop delaying because every time he delays, it's another family being split apart," she said. "After the pain that I felt from losing my father, I don't want any other family members or any other children to have to face that situation."
Ted Hesson was formerly the immigration editor at Fusion, covering the issue from Washington, D.C. He also writes about drug laws and (occasionally) baseball. On the side: guitars, urban biking, and fiction.