Journalists' shock and awe at how Michael Wolff pulled off his No. 1 bestseller, Fire and Fury, has inexplicably continued despite news of President Trump's "shithole" comments, porn star hush money, and a heavily scrutinized physical exam, with Bloomberg publishing a 1,400-word tick-tock on Wednesday, a full two weeks after the first excerpts of Wolff's tell-all began trickling out. The blockbuster takeaway: Wolff seems to have massaged the truth about his intentions in order to dupe a narcissistic president and his incompetent communications staff into giving him unprecedented access.
The White House's cooperation reportedly came in part after Wolff shared a sympathetic working title: The Great Transition: The First 100 Days of the Trump Administration. Aides were similarly impressed, Bloomberg reports, after Wolff employed the same run-of-the-mill flattery that many a reporter have used to get his or her foot into closed doors. The difference in this case was that Wolff did so in a very public way—in TV appearances and columns critical of the press in early 2017—winning over Trump and his all-star White House aides to the extent that he was essentially allowed to wander the West Wing at will over about 17 visits.
Bloomberg's Jennifer Jacobs writes:
Wolff's entree began with Trump himself, who phoned the author in early February to compliment him on a CNN appearance in which Wolff criticized media coverage of the new president.

Wolff told Trump during the call that he wanted to write a book on the president's first 100 days in office. Many people want to write books about me, Trump replied—talk to my staff. Aides Kellyanne Conway and Hope Hicks listened to Wolff's pitch in a West Wing meeting the next day, but were noncommittal.

Several aides said Hicks later informally endorsed talking with Wolff as long as they made "positive" comments for the book, which they said Wolff told them would counter the media's unfair narrative.
G/O Media may get a commission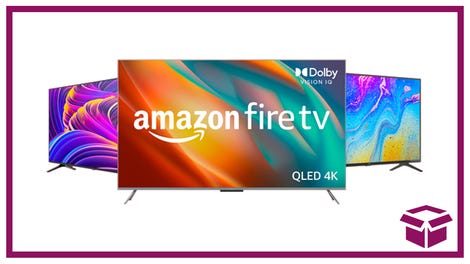 Ooh. stunning.
New Amazon Fire TVs
Top aides, particularly ex-adviser Steve Bannon, dished heavily to Wolff. Staffers apparently assumed that his presence had been green-lit by...someone else. It apparently wasn't until August that they realized they had been fooled, Bloomberg continued, as the foul creature of New York media kept up his act:
Wolff conducted himself with assurance on his visits to the West Wing, playing up his relationship with Trump. Officials recall Wolff telling them he'd known Trump a long time and that the president called him "the best."
It seems not only possible, but likely, that Trump would give his tacit approval to a journalist who said nice things about him a few times on cable news. Wolff used that initial blessing to take advantage of amateur hour PR players, only to burn them in a scorched-earth tell-all. He used the same tactics as most everybody else but on a far grander scale, with just one shot to pull it all off. And as the rest of the White House press corps continues to quibble with how their access journalism is more ethical or point out factual inaccuracies that signal sloppiness, Wolff has been laughing all the way to the bank.