Working in the Trump White House sounds awful. Imagine the most erratic and abusive boss you've ever had, but if you don't watch him closely enough, he might end human civilization as we know it. No wonder Trump staffers are constantly leaking to the press and moaning about their lack of dating prospects.

But there are some perks to working for the worst president of all time. According to Politico, Trump staffers get Trump-branded golf merch at the same discount that country club members enjoy:
White House staffers who have a Secret Service hard pin identifying them as administration officials can flash it at the pro shop — where Trump-branded driver headcovers retail for $40 and a Trump golf polo tee sells for $90, according to the online Trump store — and receive the same discount available to club members, who pay a reported $350,000 to join the club.

Those discounts range from 15 percent off of any merchandise sold in the store, to 70 percent off clearance items, according to two staffers and a receipt reviewed by POLITICO.
Everyone who said our country should be run like a corporation: congrats, you won. Working for the Trump administration comes with the same crappy perks that many who have worked crappy retail jobs will recognize. And like that 20 percent discount you got when you worked at Gap, it in no way makes up for how much the job sucks.
The ethics of these practices are sketchy, to say the least. Regardless of what some commentators say, the White House is not a business at all—it's a taxpayer-funded institution meant to help everyone in the country, not just Donald Trump.
G/O Media may get a commission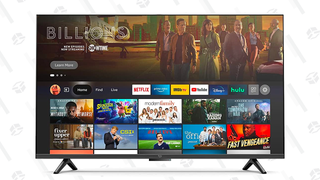 22% off
Amazon Fire TV - 50" Omni Series 4K - Early Access Deal
Ethics experts are unsurprisingly concerned about these practices.
Discounts are not prohibited by the Office of Government Ethics if they are available to all government employees, or if it's a standardized discount. But if they are not, the discount is considered a gift. Federal officials are also prohibited from accepting gifts in excess of $20 and are urged to decline any gifts "when accepting them would raise concerns about the appearance of impropriety."

"It's prohibited under the standards of conduct for any government employee to accept a gift because of their official position," said Canter. "The fact is, people's access to that facility is extremely limited. It's not open to all government employees. It's limited to staff who have access to the facility and second of all, who are given access to the Secret Service pin. It's not OK."
Though Trump may believe that he's just doing something nice for his employees by giving them these (admittedly shitty) discounts, he's also directing money back into his own pocket, the same way he does when his political guests stay in his DC hotel.

"It does have an effect on how Trump tries to secure personal loyalty and woo people away from what should be their primary and their only loyalty — to the Constitution, to public service and to the people of the United States," Norm Eisen, the ethics czar under Barack Obama, told Politico. "This is another small inducement, apparently contrary to federal law, that he uses to bind his staff to him personally."