At this point, the idea of a white person doing themselves up in blackface and recording a "funny" video of themselves mocking black people isn't shocking as much as it is depressingly expected.
For reasons known only to themselves, a group of white students attending Albright College in Reading, Pennsylvania, decided to paint their faces varying shades of brown before uploading footage of themselves mocking Black Lives Matter.
"Black lives matter now, OK," one of the girls who identifies herself as "Carleisha" says while another student  holding the phone giggles in the background. "Fuck white people."
https://twitter.com/HBCU_Roundtable/status/781468487696777216
At one point, another girl who herself appears to be black stands up from behind the girl in blackface and storms off camera. Later in the video, the first girl is seen having stuffed a purple piece of clothing into the back of her leggings to simulate having a larger butt before she mockingly attempts to twerk up against a wall.
G/O Media may get a commission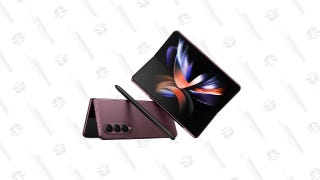 Save Up to $300
Galaxy Z Fold4
Needless to say, the moment the video made its way onto the broader internet, people were quick to voice their exhausted, but still valid, outrage that a student would engage in such a disgusting display of pure racism so casually while representing her college no less. A number of people sent the Snapchat account that originated the videos direct messages explaining that people were watching what they were posting.
@HBCU_Roundtable I don't understand why she and the people the person recording thought this was funny to do this. Completely disrespectful.

— mush (@_Mushaniqua) September 29, 2016
"Are you aware of the events that have been happening lately in this country," one Twitter user asked the account. "The black community is hurting right now and to see things like what you posted only hurt us more."
Within hours of the video's posting, Albright College stated that it was aware of what had happened, that the school did not condone what its students had done, and that school officials were looking into the matter.
"We unequivocally condemn the behavior in the video," Albright's President Lex O. McMillan III said in an official statement. "It is unacceptable by any member of our community and in no way represents the values of Albright."
McMillan went on to say that the students involved in the video's creation came forward of their own volition to own up to what they'd done and had expressed "deep remorse" for what they'd done. The college, McMillan said, was currently considering whether or not any disciplinary action needed to be taken against the students.