A white supremacist who was filmed brutally attacking DeAndre Harris in Charlottesville, VA, is attempting to defend his actions by playing the victim. Of course he is.
Michael Ramos, a 33-year-old man from Georgia who participated in the attack, turned himself in on Tuesday for a felony charge of malicious wounding. But before Ramos surrendered, he told CBS 46 that Harris struck first. (The New York Times reported that Harris was attacked after defending his friend, Corey Long, who tried to grab someone's Confederate flag.)

"These men attacked us," Ramos told CBS 46. "I thought I was going there in a defensive mode, defending people from being attacked."

Ramos' effort to paint Harris as the assailant coincides with an organized attempt by white supremacist groups to appear innocent and, at least partially, blame the police for failing to intervene. As The Atlanta Journal-Constitution reported, as footage of the assault circulated social media calling for the assailants' arrest, white supremacists were searching to find alternate video supporting their claim.
Ryan Lenz, editor of the Southern Poverty Law Center's Hatewatch blog, explained that this victimization endeavor began after an event in Berkeley, CA, where Milo Yiannopoulos was supposed to speak turned violent.
G/O Media may get a commission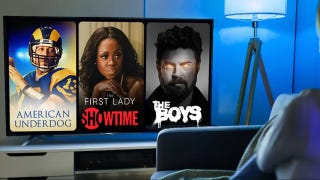 UNDER $1
99¢ Prime Video Channels
From the Journal-Constitution:
"That established a pattern or way forward for the alt-right," Lenz said. "If they could paint themselves as the victims of a tyrannical left or law enforcement that wasn't protective of their rights...it was a way to establish an upper hand."

While Ramos maintained that he is simply a conservative and not a neo-Nazi in his interview with CBS 46, a video he recorded shortly after attending the rally in Charlottesville indicates that he is at least sympathetic with their cause.

"Hey, Trump, you called me a fucking Nazi because I helped those guys beat some ass," Ramos said. "Listen, man, when you are defending your people from getting harmed by the enemy, now we have a common enemy so now, yeah, we might actually stand together."
So now, yeah, if you "might actually stand" with white supremacists and neo-Nazis and call them "your people," that makes you one of them.