The National Parks Service has approved notorious white supremacist Jason Kessler's permit to hold his second "Unite The Right" rally in Washington DC this coming weekend.

Kessler, who writes that the rally is dedicated to "protesting civil rights abuse in Charlottesville, VA/white civil rights," told the Parks Service that he expects anywhere from a hundred to 400 people in attendance at Lafayette Park on August 12, just across the street from the White House.
While the permit does include a mention of the violence that followed last year's gathering in Charlottesville, VA, in which multiple people were beaten and protester Heather Heyer was murdered by rally attendee James Alex Fields (Fields has subsequently been indicted on federal hate crime charges), it does so simply in the context of making sure the Secret Service is able to continue protecting the White House grounds. Because, priorities, people!
Meanwhile, Kessler—who is a fan of citing "disproportionate Jewish influence"—seems particularly (if paradoxically) worried about the possibility that Nazis don't like him. Per page two of the permit (emphasis mine):
Activity in Lafayette Park will include speeches and the display of signs/placards and flags. Speakers include: Jason Kessler, Patrick Little, David Duke, Simon Roche, Kevin Cormier, Avi Horton, Corey Mahler and Tom Kawcyznki. Permittee has indicated that civil disobedience will not be a part of this demonstration. Permittee has also indicated that Neo Nazis and Antifa, may seek to disrupt, protest or prevent the demonstration.
G/O Media may get a commission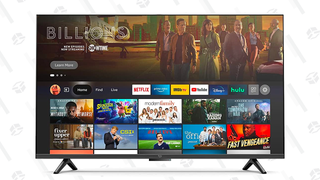 22% off
Amazon Fire TV - 50" Omni Series 4K - Early Access Deal
Antifa protesting the hate rally makes sense since these are, after all, fascists and antifa is, well, anti-them. But it's pretty laughable that Kessler would worry about Nazis raining on his racist parade because the name of it is "Unite the Right," and also since David Duke is a featured speaker.
You know... this guy:
Kessler also seems pretty perturbed about how many people will actually show up to his soiree. As he wrote to a NPS official on June 1:

Having this uncertainty so close to the event is going to dampen my turnout and make it harder for me to ensure that everyone gets the word about where the rally point is (McPherson Square). In my opinion, keeping people from wandering off and going directly to Lafayette is crucial to maintaining their safety.
My goodness, what if you threw a hate-fest and no one showed up to hate with you. How humiliating!
Has in-fighting between America's racist factions gotten so bad that klansmen, Nazis, white supremacists, and other assorted bigots can't put aside their monochromatic differences and come together to hate anyone who isn't them in peace? Sure seems like it. Premier Nazi website Daily Stormer has officially "disavowed" the upcoming rally because they're worried it'll make Nazis look bad.
If the Nazis don't go to Kessler's party, though, they'll miss out on all the pretty flags the NPS has given him permission to fly. I wonder what kind of flags he'll choose?