Welcome to WHAT NOW, a morning round-up of the news/fresh horrors that await you today.

A 26-year-old Missouri man who breached the secure area of an Amtrak train expressed interest in "killing black people," attended the Unite the Right rally of white supremacists last summer in Charlottesville, and was stockpiling weapons, the FBI said in court documents unsealed on Wednesday.
Taylor Michael Wilson, of St. Charles, MO, was charged with terrorism and felony weapons charges stemming from an incident on Oct. 22, when an assistant Amtrak conductor said he felt the train braking during a trip from Sacramento to St. Louis. He discovered Wilson sitting in the train engineer's seat and "playing with the controls," the FBI wrote in the court documents, which were reported by the Lincoln Journal Star. 
Amtrak staff managed to subdue Wilson on the train, which was carrying 175 people. No one was hurt.
When he was arrested by police in Furnas County, NE, Wilson was found carrying a loaded .38-caliber handgun tucked into his waistband—he was licensed to carry a concealed weapon in Missouri—along with a speed loader in his pocket and a business card from the National Socialist Movement, a neo-Nazi group, according to the criminal complaint filed in U.S. District Court.
G/O Media may get a commission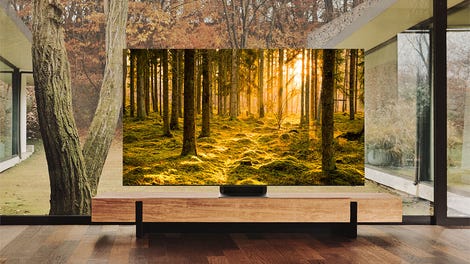 Up to 40% off
Samsung Smart TVs
But in December, after Wilson met his $100,000 bond and was released from custody, law enforcement conducted a search of his Missouri residence. They found a veritable cache of heavy arms stashed away in a hidden compartment, including 15 guns, a fully automatic rifle, and body armor. According to the paper, officers also found:
... a tactical vest, 11 AR-15 (rifle) ammunition magazines with approximately 190 rounds of .223 ammunition, one drum-style ammunition magazine for a rifle, firearms tactical accessories (lights), 100 rounds of 9 mm ammunition, approximately 840 rounds of 5.45x39 rifle ammunition, white supremacy documents and paperwork, several additional handgun and rifle magazines, gunpowder, ammunition-reloading supplies, and a pressure plate.
The newly-unsealed federal case against Wilson also includes accounts from acquaintances that he'd gotten involved in online groups connected to the racist alt-right. An FBI informant said Wilson expressed a desire in "killing black people" and other people of color.
After being arrested on Dec. 23, Wilson remains in federal custody.
WHAT ELSE?
Michael Wolff's highly anticipated book about the Trump administration, Fire and Fury, is out today after its publication date was pushed forward after Trump's lawyer hit Steve Bannon with a cease and desist letter demanding an end to "further publication, release or dissemination" of the book.

Republican leaders are meeting with Trump at Camp David today to talk about strategies for 2018. Something tells me the president won't be in the mood.
For more news and opinions from Splinter, follow us on Facebook.