Florida's Gov. Rick Scott declared a state of emergency on Monday ahead of Richard Spencer's speech at the University of Florida in Gainesville. Spencer, the virulent leader of white supremacy rebranded for the internet age, will speak at the public university's auditorium on Thursday.
As The Tampa Bay Times noted, Scott has previously issued states of emergency declarations after tragedies and before natural disasters — not for planned events. Scott's seven-page executive order warned that "the threat of potential emergency is imminent."

Separately, Scott released a statement explaining his decision to declare a state of emergency in Alachua County ahead of Spencer's speech. "We live in a country where everyone has the right to voice their opinion, however, we have zero tolerance for violence and public safety is always our number one priority," the statement read.

By issuing a state of emergency decree, Scott intended to provide local law enforcement with additional support and ensure they have "every needed resource." The order also activates Scott's ability to spend surplus money and impose curfews if necessary. Alachua County Sheriff Sadie Darnell requested the declaration, Scott's statement indicated.
"We don't know what to expect, and we don't know what kind of crowd numbers to expect," Darnell told The Times on Monday. "We all want this to be a non-event. We all want it to go very peacefully. But there is the potential for violence and for widespread property damage."
G/O Media may get a commission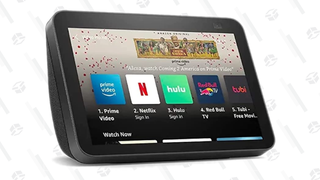 Sheriff Darnell has every reason to anticipate violence ahead of Spencer's address. Most disturbingly, the white supremacist led a band of tiki-torch wielding followers chanting "You will not replace us" and "Jews will not replace us" at a rally on the University of Virginia's campus. The next day, Spencer and hundreds of other white nationalists attended the "Unite the Right" rally where a man slammed his car into a crowd of protesters and killed Heather Heyer.
Spencer was not invited by the University, president Kent Fuchs said in a statement denouncing the event. While he urged students to not attend Spencer's speech, he encouraged students to challenge Spencer's "message of hate" and beliefs. "Speak up for your values and the values of our university," Fuchs said. "Make it clear that the messages of hate on our campus are contrary to those values."
"Those of us in the majority must speak up for those in the minority and make our voice of love and support heart," he added.