Whitefish Energy, the formerly tiny Montana company that conspicuously secured and lost a $300 million contract to rebuild Puerto Rico's electrical grid, has found another way to screw over the storm-ravaged island.
While Whitefish Energy's contract was canceled by the Puerto Rico Electric Power Authority (PREPA), it was supposed to continue restoring power on the island until Nov. 30. However, CNN reported on Monday that Whitefish was halting work before the month's end over missed payments.

Andy Techmanski, Whitefish's CEO, told CNN that PREPA had missed $83 million in contractual payments. "We stopped because of the financial situation, lack of payment with PREPA has gotten beyond its maximum threshold and what we can sustain as a business," Techmanski said.

Techmanski also alleged that PREPA, which was bankrupt before Hurricane Maria hit Puerto Rico in September, owes Whitefish $26 million in payments that were already approved by the power company. Without the payments, a letter from Whitefish said, work on the island could not continue as contractors and subcontractors had not been paid.
Previously, The New York Times reported that contractors, many of whom came from Florida, were paid far less than the amount Whitefish billed. For example, six workers from Kissimmee, FL, earned $42 an hour, plus overtime, while some senior power lineman earned $63 an hour. Whitefish's contract with PREPA secured $320 an hour per worker plus an additional $80 for food.
G/O Media may get a commission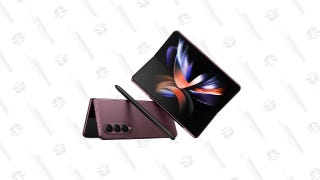 Save Up to $300
Galaxy Z Fold4
On Monday, PREPA confirmed it had stopped paying Whitefish after a subcontractor claimed the Montana firm owed them money. "Faced with this claim, PREPA had to stop the pending payments to Whitefish until the situation with the Whitefish subcontractor is clarified," the letter said.
In addition abandoning Puerto Rico, even as less than 47% of the island has power, Whitefish demanded $39 million "for anticipated demobilization costs." Seems like an extremely predatory stipulation for a company whose work was so shoddy it led to at least one major power outage.
"This is what happens when shady contracts are signed without transparency. To this date, we don't know what Whitefish did and didn't do," said Ramon Cruz, a former PREPA regulator, in an email to Bloomberg.