You know that feeling when you're just, like, super jealous of eggplants 'cause they get all bitter after soaking in salty water and stuff? The person who hacked into one of Marilyn Mosby's Twitter accounts knows what we're talking about.
Beginning at 7:24 p.m. EST on Saturday, the official Twitter handle for the Baltimore State's Attorney's office began tweeting messages in Turkish. The profile photo was changed to that of a young man giving a peace sign, and the display name was changed to "Bekir JR." In their bio, this new user claims to be a "Social Media Specialist" and a "Turkish Racial Sağolsun," whatever that is.
This Bekir JR person tweeted some #deep thoughts, like "Life matures one to the extent it causes pain"…
…and "We were better off in the darkness of night; what is the need for the morning?"
G/O Media may get a commission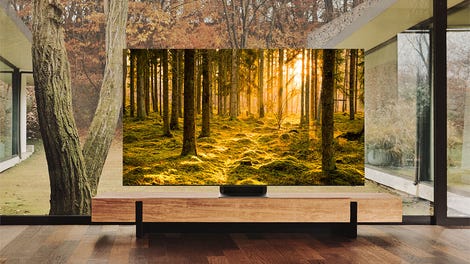 Up to 40% off
Samsung Smart TVs
They also penned some less than Jack Handy-level tweets, like "I'm jealous of the eggplant, which exudes its bitterness when it lies for just five minutes in salty water"…
…and "Apparently, pandas don't have a fixed sleeping place; they fall asleep wherever they feel sleepy. I think I'm a Panda."
"These are just mid-brow sayings, like some greeting card messages or graffiti," NYU Clinical Professor of Middle Eastern and Islamic Studies and Director of Undergraduate Studies Ayse Sibel Erol told Fusion in an email after translating the tweets. "[He or she is] trying to be funny or wise."
Not to be a salty eggplant, but it's safe to say the hacker failed on both counts.
Mosby spokesperson Rochelle Ritchie confirmed the hacking to The Baltimore Sun on Saturday night. The Sun also reported that the hacked @BaltimoreSAO account had been taken down, but the handle was still up and tweeting in Turkish as of 12:34 p.m. EST Sunday afternoon.
Fusion reached out to the Office of the State's Attorney for Baltimore for comment, but they'd not yet responded at press time.
We also reached out to ozbekir80@gmail.com, the email address now listed in the @BaltimoreSAO bio, to ask why he or she hacked Mosby's office's Twitter account, but we haven't heard anything back from that individual either.
It appears as if he or she might be the same person who tweets from the @BekirOzVIP Twitter handle, considering the identical profile photos and similar bios. We'll let you know if they contact us. Until then, stay jealous of all them salty eggplants.
Bad at filling out bios seeks same.