As audience members poured into the Ronald Reagan Presidential Library ahead of the Republican presidential debate on Wednesday, suddenly, the former first lady herself appeared.
There, dressed in a lime-green sweater and with expertly feathered hair, was the 94-year-old Nancy Reagan. CNN's Wolf Blitzer announced her arrival during the network's pre-debate coverage, and the news reverberated throughout the Twitterverse.
Only this smartly dressed woman wasn't Nancy Reagan. How do I know this? Because she was my friend Whitney's grandma, Jane Gosden.
G/O Media may get a commission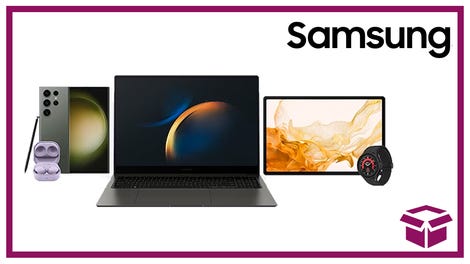 24 hour deals
Discover Samsung - Daily Deal
CNN quickly discovered the case of mistaken identity as well, and Blitzer apologized for the mixup. In the meantime, everyone from fellow journalists to George W. Bush press secretary Ari Fleischer praised "Nancy" for stepping out—and looking "fierce."
For Jane Gosden, however, who is a mere 91 years old, it wasn't the first time she'd been confused with The Gipper's wife. And having spent time with her in her home in southern California, I can understand the mixup. While I've never hung out with actual Nancy Reagan, "Grandma Jane" is elegant, glamorous, Old Hollywood, and deeply committed to the Republican Party.
I spoke with Gosden by phone on Thursday, who was highly entertained by the incident. "It's a great honor to be mistaken for her," she told me. "I think it's terrific. I love the fact that I was mistaken for such a gorgeous first lady! But yes, I found it very amusing." And it's happened "many times, in hospitals and places," she said. "People have said to me on and off, 'Oh, you look like Nancy Reagan.' And people kind of think that I might know her."
In fact, Gosden does know Nancy Reagan—she's known her for decades, since before she was the first lady of California or America. Mrs. Reagan personally invited her to this week's debate.
For nearly forty years, Gosden was married to iconic radio actor Freeman Gosden, better known as Amos on the long-running and immensely popular comic radio show Amos 'n' Andy. (Yes, the Amos 'n' Andy in which two white men played two black men living in Harlem.) Freeman Gosden earned a star on the Hollywood Walk of Fame for his work in 1969, and was later inducted into the National Association of Broadcasters Hall of Fame. He served as best man at Frank Sinatra's 1976 wedding to Barbara Marx.
Freeman and Jane Gosden were friends with Nancy Reagan's parents, Edith and Loyal Davis (her stepfather), she told me, and Edith used to ask Freeman about putting their daughter on his radio show. The couple knew "Ronnie," too, before he was even married to Nancy.
Along with campaigning for Dwight Eisenhower and Richard Nixon, the Gosdens worked to help get Ronald Reagan elected to the governorship of California, and eventually, the White House. Freeman Gosden died in 1982, when my friend Whitney was a baby.
Fast forward to September 2015, when Grandma Jane and her son, Craig Gosden—Whitney's dad—rolled up to the presidential library to watch the top GOP contenders duke it out—and suddenly, instead of simply being a friend of Nancy Reagan, she was given the momentary distinction of being the former first lady. The real Nancy watched the debate from home, on television.
But it was nice to see Grandma Jane getting recognition all the same.
Danielle Friedman is senior editor of Fusion's Sex & Life section, by way of NBC News and The Daily Beast. She enjoys writing about the intersection of health and culture. She also loves Muppets.