Jordan Brown, an openly gay pastor from Austin, Texas, recently announced his plans to sue Whole Foods for allegedly selling him a cake with a homophobic slur written on it. Yesterday, during a press conference Brown and his lawyer Austin Kaplan said that the cake's slur was tantamount to someone using the N-word.
Today, Whole Foods called Brown's bluff with a lawsuit of their own, suggesting that the man was making the whole thing up.
"After a deeper investigation of Mr. Brown's claim," the organic grocer said today in a strongly-worded statement, "We believe his accusations are fraudulent and we intend to take legal action against both Mr. Brown and his attorney."
G/O Media may get a commission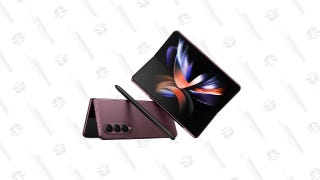 Save Up to $300
Galaxy Z Fold4
This whole ordeal began last week when Brown placed an order with his local Whole Foods for a cake with the words "Love Wins" written across it in icing. That same day, Brown took to YouTube with a distraught video describing how once he got into his car with the cake, he was horrified to find that it also had the word "fag" written on it in the same icing.
Almost immediately, Brown's story raised some doubts. While this wouldn't have been the first time that a homophobe used pastries to lash out at a member of the LGBT community, what employee in their right mind would scrawl a slur on a cake while they were at work and on-camera?
That was the exact same logic that Whole Foods applied, prompting them to post security footage from the store in question depicting Brown buying the cake and apparently raising no issue. (Whole Foods has since pulled the video from YouTube.) In its statement today, Whole Foods also noted that the employee responsible for decorating was also gay and that the box that the cake came in was clear—anything written on the cake should have been visible.
"That's exactly how the cake was packaged and sold at the store," the company said. "Whole Foods Market has a strict policy that prohibits team members from accepting or designing bakery orders that include language or images that are offensive."
Even though it would be easy to assume that Whole Foods was only acting in its own self interest by coming out in defense of its employee, you have to remember that we live in an age where people can turn internet controversy into real world money.
Three years ago, Dayna Morales, a former Marine-turned-server working in New Jersey posted a photo of a receipt to Facebook that she claimed to have received from her customers. On the receipt, she'd casually encouraged them to "have a gay day" and they, she said, returned the receipt to her with no tip and a condemnation of her "lifestyle."
In the days following Morales' post, her story was picked up by media outlets and, because this is the internet, people sent her money to make up for the tip she never got. Weeks later, it would come to light that Morales made the whole thing up, promised that she would give all of her ill-gotten monies to charity, and then lied about making the donations, too.
Whole Foods is standing its ground.
"We stand behind our bakery team member, who is part of the LGBTQ community," Whole Foods insisted. "And we appreciate the team members and shoppers who recognize that this claim is completely false and directly contradicts Whole Foods Market's inclusive culture, which celebrates diversity."