President Trump is seen as an impediment to foreign policy goals even by those in his own administration, alleges a new report from the New York Times. According to the Times, national security advisor John Bolton worked with other high-level officials to ensure that the recent NATO agreement was complete before Trump even arrived in Brussels.

Trump was still able to disrupt the July meeting. But thanks to Bolton and others, the organization had basically agreed on their terms by the time our figurehead president arrived.
From the Times:
In June, weeks before the meeting, Mr. Bolton sent his demand to Brussels through Kay Bailey Hutchison, the American ambassador to NATO. He wanted the NATO communiqué to be completed early, before the president left for Europe, according to five senior American and European officials familiar with the discussions who described them on the condition of anonymity to avoid angering the White House.

NATO's secretary general, Jens Stoltenberg, reinforced Mr. Bolton's directive during a gathering of the ambassadors on July 4. The usual infighting over the summit agreement, he said, had to be dropped. [...]
Two senior European officials said Secretary of State Mike Pompeo and Defense Secretary Jim Mattis were also keen to avoid another confrontation similar to the G-7, and the NATO declaration was completed days before leaders set foot in Brussels.
So to recap: the (somewhat) democratically elected leader of our country was intentionally kept in the dark about new agreements between us and a major international organization because his top appointees were afraid he'd sabotage it. Great. That's just great.
These arrangements helped NATO secure some of their biggest policy goals in years. Those included adding Macedonia to the organization (over Russian protests), establishing an Atlantic Command post in Virginia to coordinate responses to international events, and building up the military capabilities of allied countries in order to respond to a potential attack.
"When you read the communiqué, and take into account the work that took place, this is one of the meatiest NATO summits that I can recall," said Deborah Lee James, a former secretary of the Air Force in the Obama administration.


Eric Pahon, a Pentagon spokesman, said in an email on Thursday that the summit meeting was "extraordinarily successful, and the outcomes are now strengthening the alliance and trans-Atlantic security."
G/O Media may get a commission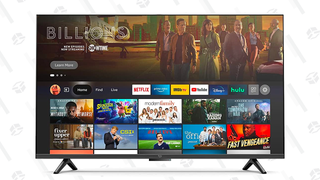 22% off
Amazon Fire TV - 50" Omni Series 4K - Early Access Deal
Wow! It's easy to get things done when a screaming baby isn't in the room!
Before you get too excited, let's remember that all this means that our president was essentially shut out of negotiations over a meaningful deal with our most important allies. According to the Times, this was not the case in the last negotiations with President Obama.
At a 2016 meeting in Warsaw, last-minute changes in the communiqué were shown to President Barack Obama. By contrast, American officials said, this year Mr. Trump was presented with only the broad outlines of what the meeting would deliver — not details of the document of 79 paragraphs, running 23 pages.
Anyone who worries about a "deep state" controlling our country undemocratically should be alarmed by this. It looks like Trump is more of a symbolic leader than someone who has actual control over our country and its activities. And while that may be a relief, give who he is, it's a dangerous precedent that edges America into the realm of military dictatorships. What's even scarier is that a lot of people are fine with that—a recent poll found that 30 to 35 percent of Americans would be ok with a military coup under certain circumstances. This may be Trump's real legacy: handing over the country to a cabal of military figures who believe they "know what's best" for the nation. Liberty and justice for all, y'all.