Donald Trump knocked Marco Rubio out of the race for president, and it was the least surprising thing that happened all night. So where does the campaign for leader of the free world stand now? Let's take a look at who's left after Tuesday night—and who may have just joined.
Donald Trump
The bombastic Republican frontrunner didn't have the worst night, but he also didn't have a great night. Trump woke up at his palatial Mar-a-Lago estate with returns still trickling in from Missouri, where he led Ted Cruz by fewer than 2,000 votes out of more than 930,000 cast.
Trump handily won the big prize of the night, Florida, with its 99 winner-take-all delegates. That was enough to force Rubio to suspend his campaign, though not before getting harassed one last time by a Trump supporter. Trump also won North Carolina and Illinois.
Basking in victory Wednesday morning, Trump hinted at his pick for chief foreign policy adviser: Donald Trump.
G/O Media may get a commission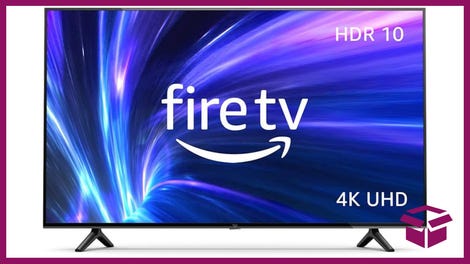 42% Off
Amazon Fire TV 50" 4K Smart TV
In a surprise, he also announced that he's had enough debates, thank you.
But if he was hoping to run away with the nomination, Trump was disappointed. He lost the winner-take-all state of Ohio to its governor, John Kasich, and it's likely that when all the votes are counted nationwide that more delegates will be pledged to non-Trump candidates than to Trump.
That means that a contested GOP convention is looking even more likely. And with Rubio out of the race, Trump's two remaining challengers, Cruz and Kasich, have a better chance at picking up some of the contest's remaining winner-take-all states.
John Kasich
Kasich undoubtedly had the best night of his candidacy. The former Fox News host and Lehman Brothers managing director won his home state's 66 winner-take-all delegates with the help of a sizable number of Democrats who crossed over and voted in the Republican primary.
Now Kasich faces a relatively favorable calendar going forward, with more moderate Northeastern and Midwestern states coming up. The candidate once known for his "hair-trigger temper" has been running an optimistic, if somewhat saccharine, campaign so far. Expect that to change now that he's one of three candidates left.
Ted Cruz
Cruz outperformed his poll numbers, saw the end of his main rival not named Donald Trump, and came close to winning Missouri.
The bad news: There may not be enough delegates for him to pull this thing off. In Missouri, Cruz is close enough to Trump to call for a recount. But because of how the state allocates its delegates, Cruz will probably only pick up five to 15 of the state's 54. And as the race toward Kasich and Trump country, he'll need every delegate he can get.
Paul Ryan
The GOP lost one handsome wunderkind in Rubio, but it may have gained another in Paul Ryan. In an interview with CNBC's John Harwood, the former vice presidential candidate and current speaker of the House refused to rule out accepting the nomination at a contested Republican convention.
He also didn't appear particularly enthusiastic about the proposition. The very suggestion that his party would propel him into yet another position of power he doesn't want might be enough to drive Ryan, notorious calorie-counter, face-first into a tall glass of dark Irish stout.
Hillary Clinton
You can count Hillary Clinton as yet another one of the big winners. She clinched big wins in Ohio, North Carolina, and Florida. She also fended off upsets from Bernie Sanders in Missouri and Illinois. She took the opportunity to focus her attention on the general election and specifically on Trump.
"When we have a candidate for president call for rounding up 12 million immigrants, banning all Muslims from entering United States, when he embraces torture," she said, "that doesn't make him strong, it makes him wrong."
Bernie Sanders
Only Rubio may have had a worse night. Votes were still being counted in Missouri, but Sander appeared headed for an 0-for-5 finish. But as always, a Sanders loss comes with a caveat: The billionaire-bashing socialist senator is swimming in campaign cash. Even as his path to the White House narrows, Sanders has little incentive to drop out of the race.
The Movement
While Sanders' political revolution might be on the verge of defeat, grassroots movements have a reason to be optimistic after Tuesday night. In Illinois, prosecutor Anita Alvarez, who drew the ire of Chicago activists for her handling of the Laquan McDonald shooting, lost resoundingly to Kim Foxx.
And in Cleveland, voters ousted the prosecutor who failed to obtain an indictment for the police officer who shot and killed 12-year-old Tamir Rice.