Hey, look at that. In all their coverage of Kristen Stewart's (rumored) new relationship with French musician SoKo, neither The Daily Mail, nor Just Jared, nor even Hollywood Life have dubbed the women "gal pals." Progress!
But that still doesn't answer one fundamental question: Who the fuck is SoKo?
I like the idea of a soft-butch/alt-femme pairing receiving mainstream media attention, but I'd like to know a little bit about the vaguely famous queer people I blindly stan simply because they're vaguely famous and queer. I mean, what if SoKo voted for fascist Front National candidate Marine Le Pen in the last French presidential election? What if she's actually super into Brigitte Bardot's second act as a font of racist and anti-Muslim ideology? There are so many ways this could go wrong, but, after doing a little background research, I think SoKo's OK.
Anyway, in case you shared any of my hesitation, here's a handy primer I've assembled that breaks down everything you need to know about the woman Kristen Stewart's been spotted making out with, starting with…
G/O Media may get a commission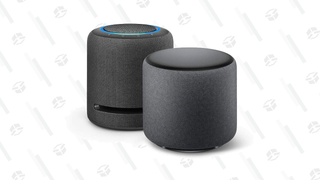 25% off - Prime Exclusive
Echo Studio + Echo Sub Bundle
Who is SoKo?
SoKo is the stage name of Stéphanie Sokolinski, a 30-year-old French musician, music video director, and actress. Sokolinski was born in Bordeaux, moved to Paris at 16, and then relocated again to Los Angeles in her early twenties. She identifies as bisexual.
Why is she famous?
Right now? Mostly because paparazzi have photographed her kissing and holding hands with Kristen Stewart in Paris and L.A. recently.
But beyond the erstwhile Twilight star (who was great in that Juliette Binoche movie you didn't see last year btw), SoKo is a musician. She released debut EP Sokute in 2007, scoring a surprise top 5 single in Denmark and Belgium with "I'll Kill Her."
The sudden success proved overwhelming, and she retreated from music for half a decade.
"[I felt] a bit burned out," SoKo told The Guardian in 2015. "[T]here was too much expectation on me. And also I didn't have enough life experience. I didn't want to release something that was meaningless."
SoKo returned in 2012 with her first full-length, the lo-fi confessional I Thought I Was An Alien. The album went mostly unnoticed in the U.S. until track "We Might Be Dead Tomorrow" was chosen to soundtrack a short film by fashion brand Wren about random people kissing each other for the first time in 2014.
The video went viral, racking up millions of views. (The clip has been watched over 112 million times at present.) Due to some 2013 changes in how Billboard calculates its weekly chart positions, those YouTube views catapulted the song to number nine on the Billboard Hot 100.
"Two weeks ago I was still struggling to get anyone interested in signing my second album," SoKo told MTV News at the time. "And now, I have back-to-back meetings with labels who are finally 'out of the blue' waking up because, 'They've been fans for years.'"
SoKo followed up I Thought I Was An Alien with a comparatively upbeat, post punk-influenced sophomore effort, My Dreams Dictate My Reality, in 2015. Oh, yeah! And she's also an actress. Most recently, she starred in a French Isadora Duncan biopic called The Dancer, but let's get back to why we're all really here…
Is she dating Kristen Stewart?
The publicist who handles SoKo's press in the U.S. told me that "we have no comment at this time." So, I guess I can't really give you a definitive answer to this question. But I do think it's important to consider the facts:
1. Kristen Stewart and SoKo have been photographed holding hands.
2. Kristen Stewart and SoKo have also been photographed making out.
3. End of list.
Could something romantic or sexual be going on between them? Sure. But does that mean they're "dating," as many tabloid outlets have jumped to report? Not necessarily! I mean, I'm holding hands with and making out with and [redacted] with someone right now, and he and I are definitely not dating. But, who knows—maybe Kristen and SoKo are dating! All I know for sure that they're are definitely not "partners," as one unthinkably heterosexual Daily Mail reporter recently wrote.
So, I guess all that begs the question…
Is this any of my business?
Honestly, no! But in another way, yes! I'm of two minds.
On the one hand, Kristen Stewart and SoKo are still people who deserve the right to maintain some modicum of privacy even in the spotlight. On the other hand, that first hand is boring and also a virgin who can't drive. Kristen Stewart and SoKo are public figures, and with that notoriety should come some expectation of increased public scrutiny.
Besides, the two seem fine with being filmed in a less than platonic light—at least when it's on their terms.
Check out this paparazzi video shot in Paris a couple weeks back. At about the 11-second mark, it appears as if SoKo alerts Kristen to the presence of photographers by pointing off in the distance. Does K try to run? Start making out with the nearest French dude in the vicinity? Don a pair of Groucho Marx gag glasses and softly mutter to herself, "The perfect crime"? No. Kristen looks pretty unfazed, actually. In fact, she reaches for SoKo's hand—and, after some fumbling, she succeeds in making contact.
At the risk of penning mediocre celebrity fan fiction, I have to wonder whether this was the actress' way of regaining control over this encounter with the paparazzi. In grabbing SoKo's hand, Kristen goes from unwilling celebrity being photographed without her consent to celebrity telegraphing a message about her personal life via body language and other forms of non-verbal communication. To maintain the narrative that she and SoKo are being hounded mercilessly after watching this video feels equal parts disingenuous, patronizing, and low-key homophobic. It assumes that neither woman is capable of asserting their agency in the public eye. It also reinforces the idea that not being straight is shameful and worth protecting, or perhaps hiding, at all costs.
This is all to say that I have no fucking idea whether SoKo and Kristen Stewart's (alleged) relationship is any of our business. But I am reminded of what Stewart told Nylon in 2015 when asked about her sexuality: "Google me, I'm not hiding." So, why are we working so hard to pretend that she is?
Bad at filling out bios seeks same.