Last Friday, Whose Streets? a documentary about the Ferguson uprising by filmmakers Sabaah Folayan and Damon Davis, hit theaters. The film was released two days after the third anniversary of Mike Brown's killing, but, in a cruelly ironic bit of timing, its release coincided with another charged, racialized event: The violent white supremacist "rally" in Charlottesville, VA.

The documentary follows the aftermath of Brown's death, the protests in Ferguson, and how a community of activists came together to create a national movement demanding justice for Brown as well for black Americans who are continually subjected to systematic racism. It is an immensely important film—as well as a crash course for anyone who doesn't understand the racism behind how the media portrays black people—and seeing it in the wake of what happened in Charlottesville makes it feel all the more timely and relevant.
Whose Streets? revisits the Ferguson protests with a nuanced intimacy, grounding the enormous movement they sparked in a series of detailed character portraits of various organizers. We meet David Whitt, a citizen journalist and resident of Michael Brown's neighborhood who, as a member of a local Copwatch group, documents police interactions on video. We meet Brittany Ferrell, a protester and co-founder of Millennial Activists United, as well as her daughter, who she's trying to raise as a critical thinker. In what is a heartwarming rarity for media, a small section of the film is dedicated to celebrating the love between two black queer women, as we also meet Brittany's partner Alexis Templeton, herself a prominent activist in Ferguson.
The film grants us access to the front lines of the protest, coupling the original footage the filmmakers shot with cell phone footage taken by citizens and residents showing exactly how protesters were being antagonized by police forces. In one of the most intense and notable scenes, protesters are face to face with a line of police officers, one of whom is a black woman on the verge of tears as protesters ask her to do the right thing and yell, "We love you, sister."
It is this incredibly strong visual storytelling that helps Whose Streets? combat the mainstream media's inane and racist focus on looting and property damage (though that is not glossed over), proving just how much black people are up against when it comes to how their pain and their activism is portrayed on mainstream news outlets.
G/O Media may get a commission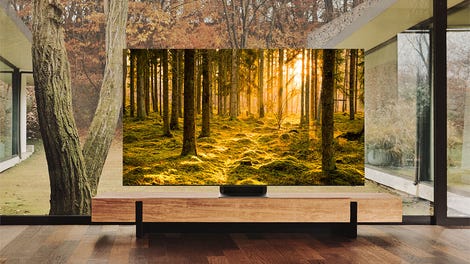 Up to 40% off
Samsung Smart TVs
As urgent and historic as the story of what happened in Ferguson is, Whose Streets? can't help but take on an extra dimension following the horror in Charlottesville.
Over the weekend, we saw violence break out in the name of racism. Media outlets placed unabashed violent white supremacists, equipped with assault rifles, clubs, and other riot gear on an equal footing as their anti-racist protesters.
Even more attempted to explain that white supremacists emboldened by the president of the United States, who ran on a campaign of racism and continuously attempts to pass racist legislation, were not representative of America. It took the president two whole days to make a flaccid remark ("racism is evil") condemning criminals and thugs "including the KKK, neo-Nazis, and white supremacists" after a protester was killed in a domestic terrorist attack.
To watch Whose Streets? and see Ferguson's unarmed protesters being boxed in by the Missouri's National Guard, and police tear through the streets telling residents standing in their own front yards to go home, and German shepherds ferociously barking at people whose hands were simply raised, and people defying a system built to crush them, is an intense experience that forces the viewer to reckon with the way America's institutions diminish the lives of black people. But to watch all that in light of the Charlottesville police doing nothing to quell the violence this weekend, and to watch the very same media that demonizes black protesters cannibalize itself in order to not confront the reality of racism in America, made Whose Streets? hit even harder.