When Uber and Lyft pulled out of Austin, Texas earlier this year, the city temporarily plunged into a state of "transportation chaos."
Austin, like many cities, had grown accustomed to life with a ride always accessible at the tap of an app. But when Austinites voted in May for ride-share drivers to be fingerprinted and checked against an FBI criminal database, Uber and Lyft made good on a threat to pull out of the city in protest. Suddenly drivers were without work and bar-hoppers had a harder time finding a safe way home.
That's when a company called Arcade City came to the rescue.
The ride-share start-up set up a Facebook page where riders could connect with now out-of-work drivers, creating a decentralized, DIY alternative to Uber and Lyft. Within a few months Arcade City's Facebook group had ballooned to over 35,000 drivers and riders posting constantly about getting and giving rides.
Arcade City sought to remove the middleman in ride-sharing by connecting riders and drivers directly, with plans to take a small cut of payments once the company finished building its app. Breathless tech news stories gushed that "a 30K-member Facebook group filled the void left by Uber and Lyft,"and suggested that if Arcade City were successful there, it could spread nationally, knocking Uber and Lyft from their throne. The Bitcoin press fawned over the company's plan to use blockchain tech and christened it an "Uber killer." Austin press championed it as a potential answer to the city's ride-sharing troubles.
"We are genuinely hoping we can be an alternative to Uber," Arcade City founder Christopher David recently told me. He said the company has hired a handful of employees and raised $250,000, with almost $3 million more "on the verge" of closing.
G/O Media may get a commission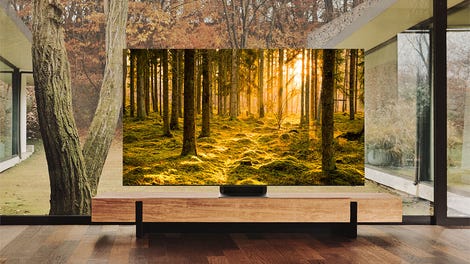 Up to 40% off
Samsung Smart TVs
David plays a convenient hero to Austin's woes and Uber's Goliath. But when Fusion looked into David's background, we found a past pervaded by failed start-ups and former colleagues who claim he's broken promises and failed repeatedly to pay back debts, casting doubt on the future success of Arcade City in Austin.
David, who is 30, was born Christopher Pille. After serving as the Northeast organizer for the Libertarian nonprofit Young Americans for Liberty, he changed his name to Christopher David, moved to California and started a web-marketing company. In 2012, at 25, he ran for Congress as a California Republican, positioning himself as the "Millennial" candidate. Somewhere in there, he also started a Libertarian media company, a bitcoin campaign donation start-up, and tried to enter a million dollar contest for people with paranormal abilities.
Investors, drivers and reporters eager to cast Arcade City as a regulation-busting "Uber for the people" should be aware of David's track record. If Arcade City resembles David's past projects, it may hinge on little more than smoke and mirrors—a Theranos for the sharing economy. This is the story of one start-up, but also the story of how easily companies with little more than clever marketing can gain a devoted following among users and the press.
"There will never be an app," said Jack Stemmelin, who briefly worked for free for the company. "[It's] not a business, it's a joke."
Arcade City actually predates Austin. David got the idea for the company while living in Portsmouth, New Hampshire and working part-time as an Uber driver. When the city enacted ride-sharing regulations so strict they essentially banned Uber and Lyft, David, a techno-libertarian with an anarchist bent, ignored them and kept on offering up rides as the "Rogue Uber Driver."
At the beginning of the year, he and another Uber driver, Dennis Acton, started a company called Arcade City, LLC that would let drivers set their own rates and connect with riders outside of the app if they wanted to. Paperwork reviewed by Fusion shows that they made themselves 50-50 owners. They wanted to build a business based on what's known as the swarm model, relying on contributors who would volunteer their time to build out the company for an unspecified eventual reward. Ridesharing by the people, for the people.
It was not long, though, before Acton and several others involved in the start-up's early days noticed problems with David's management. In mid-January, David announced to the press that the app would launch on Valentine's Day, despite the fact that the company had not yet hired someone to code it. (David told me that he planned initially to code it himself, though he has said elsewhere that his coding abilities are basic at best.)
And while he suggested to the press that Arcade City was building a revolutionary blockchain-based ridesharing app on the platform Ethereum, the CTO they eventually hired did not know what Ethereum was and began building an app that was not Ethereum-compatible, according to Acton and several others.
In late January, with the February 14 deadline just a few weeks away, David took on a political consulting job for a controversial state governor candidate, Mike Gill. Acton, Gill and David disagree about what happened next. Acton says David diverted his attention away from Arcade City to focus on a signature-collecting campaign to get Gill's name on the ballot, rallying Arcade City's volunteers to help. Gill says he paid David $23,000 to help collect the necessary 3,000 certified signatures to get on the ballot, but that he fired him after he delivered hardly any signatures. David says that he was paid $18,000 to do a number of things for Gill's campaign, which he delivered on, including gathering signatures and running a design contest, while still working on Arcade City all along.
Somehow, Arcade City still managed to launch a crude app on February 14, but only with the new CTO working 18-hour days and leaving out many planned features, like GPS tracking or the ability to make in-app payments.
In the meantime, Acton was dismayed by the fact that David kept posting late-night YouTube videos and Facebook updates publicly announcing changes that he and Acton had not yet discussed, including that they had raised a round of capital when they hadn't. (David says that the deal in question fell through after he "announced it too soon.")
And while Acton says he urged David to slow down on giving away slices of future revenue, David was offering volunteers who recruited drivers for Arcade City three percent of those drivers' payments for a lifetime. With those kinds of percentages, Acton wondered whether the company could ever make money. (David still stands by those numbers, though no one has been paid yet.)

"He basically pedals a super cure for everything that's failing in Uber. I fell for it and I did not get anything in return," said Jack Stemmelin, one of the company's early volunteers. "He was promising people a piece of a pie [for which] he didn't have the money to buy the ingredients."
Those interviewed said David's leadership was erratic; often no one besides him would have any idea what was going on. He would disappear sometimes without explanation for days. David refuted these criticisms, telling me that his critics didn't understand what it was like to run a start-up "on a shoestring budget that's been buried in inbound interest from day one."
When Acton and David held a swag sale that raised more than $2,000, the Arcade City-branded gear was never delivered to those who participated and the money raised disappeared. When Acton asked how the swag sale money had been spent, he says David evaded answering. David, meanwhile, says that he used the money for business expenses, though he declined to provide a record of such, and still plans to eventually deliver the swag.
"He was always fast and loose with money and that was a red flag for me, but I felt if we could figure out a good corporate structure we'd get some checks and balances in place," said Acton. "He's the vision guy, you don't want to reign someone like that in. But when you get into business agreements with people you can't play fast and loose anymore."
For Acton, the swag sale was the last straw. In March, he decided to resign, only to find out that David had started a new company, Arcade City, Inc., with a new group of people, several of whom said they were unaware of David's management issues.
In April, accusations surfaced that David had a trail of debt, broken promises and several failed start-ups already in his past. Ivan Chen-O'Neill, the campaign manager for David's 2012 run for Congress penned a Medium post that labeled David a fraud who had borrowed money from himself and several others, without ever paying it back. Chen-O'Neill said that David charged $3,769 onto his credit card during the campaign without his permission, after he had given him his credit card number to make a few small campaign-related purchases. Chen-O'Neill sued and got a small claims judgement against David for $5,095. David admits that he hasn't yet made good on the court-ordered settlement, but says that all of the credit card purchases were for legitimate campaign costs.
In a recent Reddit AMA, David says he is not in a position to repay the three people to whom he owes money.
"I failed to deliver on repeated promises to pay them the money I owe them," he admitted. "My personal debt runs in the high five figures…I have a list of creditors I'm working my way down."
"What Chris does is start a business or political campaign, tries to get people to pay for his lifestyle and then he leaves when the going gets tough," Chen-O'Neill told me.
David downplayed Chen-O'Neill's complaints.
"The disgruntled former political staffer with an axe to grind is a sad cliché," he said. "His rants boil down to, 'Chris had a business and a political campaign fail, and paid the people involved only part of what he promised them.' Big whoop."
After Chen-O'Neill posted his accusatory Medium post in April, David abruptly pulled the Arcade City app from Apple and Google's app stores, saying he planned to build a new version from scratch. It has still yet to launch.
When David heard about Uber and Lyft pulling out of Austin, he decided to move his operation there. Still without a working app, David set up the Facebook group to connect riders and drivers while he worked on raising investment capital. Recently, he wrote that the company has "raised enough angel funding to hire one of the top mobile app development firms in the world" (though he would not share which one), He said the app is going to launch in Austin next month and that he then plans to launch in other cities.
Earlier this month, David told me Arcade City was "most of the way" to raising $2 million from venture capitalists, but then this week he said they've only raised $250,000 (from unnamed angel investors in the Bitcoin community). He said the company is "on the verge" of closing a $3 million funding round.
Former company executives with knowledge of its inner-workings said that David seems to operate without any real business plan, constantly changing strategies whenever it suits him to the detriment of the business itself. One former Arcade City collaborator compared David's venture to Trump's bid for the presidency.
"You just don't know how far is he going to go with this," he said. "It would not surprise me if he got a $1 million investment and then just disappeared the next day."
David's critics have already begun seeing familiar, troubling signs in Austin.
The company was cavalier on social media after the police showed up at its Austin headquarters with a citation for operating without the appropriate permitting.
"Their rules don't apply to us, and we are happy to have that conversation, even if it's in court," David told Motherboard at the time.
Because Arcade City requires that drivers be responsible for complying with any existing requirements themselves, the app puts drivers not aware of rules and regulations at risk. At least one Arcade City driver has had their car impounded for operating without the correct permits.
Acton, Stemmelin, Chen-O'Neill and a few others who on their own developed suspicions about David recently began a campaign to raise awareness about David's past, hoping they can prevent him from disappearing and starting over somewhere else. A Facebook page they started, Citizens Against Arcade City, has so far gained little traction. In another secret Facebook group, they share and collect evidence of David's alleged wrongdoing.
It's unclear whether David is really an intentional scam artist—starting companies to collect investment money before moving on to something else—or just an idealistic smooth-talker without much of a head for business. What's clear is that his past is a graveyard of failed ventures, with many people angry that he wasted their time and failed to pay them back money.
David said his clash with his detractors boils down to a personality clash.
"I don't claim to be easy to work with," he said, "And I am happy to admit past failures."
David was candid about this in his Reddit AMA.
"I am not good at managing money," he said. "I am not good at managing the logistics of following through on my big-picture vision."
That does not bode well for Arcade City.