On Sunday, Pastor Andy Savage received a standing ovation at the Memphis megachurch Highpoint as he confessed from the pulpit to the "sin" of a "sexual incident" with a 17-year-old girl 20 years ago. Last night, he gave an hour-long interview in which he spun the assault as the result of a "flirtatious environment" at the church where he was a youth pastor in 1998.
The victim, Jules Woodson, called last night's interview "horrifying" through a spokesperson. And people who say they had contact with Highpoint over a different set of abuse allegations two years ago call the church's response "familiar."
Woodson has stopped giving interviews herself, as she is overwhelmed and exhausted by press interest, a friend says. Last week she accused Savage of driving her into the woods and getting her to perform oral sex while she was under his ministry. She watched Sunday's performance and apology aghast on the church's live-stream channel.

"Until now, I did not realize there was unfinished business with Jules," said Savage on Sunday, which was delivered to the 2,000-person congregation. "My repentance over this sin 20 years ago was done believing that God's forgiveness was greater than any sin."
When the crowd erupted in roughly 20 seconds of applause for Savage's brave acknowledgment of what would in some states be considered statutory rape, senior pastor Chris Conlee threw his arms around Savage and said, "I know when you support Andy in that way, you're also supporting Ms. Woodson. You are supporting her healing." And then they prayed.
G/O Media may get a commission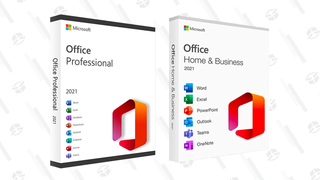 89% off
Microsoft Office Professional 2021 Lifetime License
When the New York Times reached Woodson for comment on the sermon, she gave it through tears.
Since Woodson's blog post about the assault was published last week, Savage's book, The Ridiculously Perfect Marriage, has been pulled; both he and Conlee have had speaking engagements canceled. Last night, facing pressure from some religious leaders and Christian commentators, Savage appeared on the conservative Ben Ferguson radio show to announce a leave of absence—but not before the pastor, who has made much of his career as a a marriage counselor and purity advocate, described the incident as "a mutual, organic, passionate, hormone-filled moment," and suggested Woodson wasn't being honest about the encounter.
Needless to say, the implication that hormones and womanly wiles were to blame for the pastor's abuse of power has struck some as tone-deaf. Savage has in the past blamed Matt Lauer's misconduct on secular culture's promiscuity and in his writing proposes ironclad rules for dealing with members of the opposite sex. (For example: Don't ride in a car alone with one.) At the time of the assault, Woodson was taking a workshop with Savage called "true love waits."

Woodson's outing of her assaulter and the church's redemption narrative about Savage—who, in addition to serving as a youth pastor, formed a pop culture-inflected bible study for "young singles" in the early 2000s—has shown the difficulty of bringing #MeToo-style punishment to the Christian community, which even in its hipper corners can be oily and well-versed in the management of scandal. Using the hashtag #ChurchToo, members of Christian communities steeped in purity culture and the gospel of forgiveness have been reckoning with how to hold leaders to account over the last couple of months. The issue is compounded given many churches longstanding inability to eradicate well-publicized instances of serial abuse.
Pastors at megachurches like Highpoint are close to their celebrities in their communities, and they maintain close relationships with people much younger and vulnerable than themselves. Purity culture teaches young congregants nearly nothing about consent. And churches, fearing such blatant demonstrations of hypocrisy, have everything to lose in bringing scandal into the public eye.
There are also myriad ways to use gospel to circumvent justice, even on a theoretical level: As Ruth Graham points out in Slate, Highpoint and similar churches have in recent decades moved from the idea of a punishing God towards a sense of human "brokenness"—a "shift in emphasis from punishment to grace" that in Savage's case carries "the implication that repenting means he should suffer no further consequences."
In a statement on the church's website, Savage wrote "I accepted full responsibility for my actions" and "took every step to respond in a biblical way." Once the leave of absence was announced, Highpoint leadership released a statement that made no mention of Woodson or her allegations:

"Please know that we support Andy as a leader of our church, but we also understand this has been a difficult season not only for Andy and his family, but for our congregation as well."
"They followed the same script with us," Brooks Hansen says. "When their attempts to convince us to stay quiet failed, they began denigrating us while going into full-blown PR mode."
Brooks, along with his brother Michael and their childhood friend Kenny Stubblefield, say the church deploys crisis PR tactics and selective scriptural interpretation to keep victims of assault from being recognized in the past. When they sought help from the church in addressing a long-past coverup of their childhood abuse, Stubblefield says, Pastor Conlee "tried to use his pastoral power to get us to back down." The three have been following the fallout from Woodson's allegations closely.
In 2015 they sent a letter to a pastor at The Church at Schilling Farms, which was planning to merge with Highpoint. In the letter, they alleged the pastor had intentionally covered up their abuse at the hands of a youth pastor when they were teenagers. In response, they say, the pastor denied knowledge of the incident and asked the men to "find forgiveness in your heart for those who have disappointed you in the past."
During the course of confronting church leadership, they corresponded with Chris Conlee about their concerns and desire for mediation, which were met first with sympathy that later turned to denial: In a sermon announcing the partnership with the new church, Andy Savage assured congregants there was "nothing sinister going on," an apparent response to the rumors about the scandal.
Stubblefield and Brooks Hansen, in a phone call with Conlee before they went public with their story on social media in 2016, say they were warned that "sometimes it's better not to tell the truth, because sometimes the truth can hurt people." Both also say the pastor invoked scripture to explain that there could be many truths in a situation such as theirs.
"I was like, do you even read the Bible?" Hansen says. (Conlee has not responded to a request for comment.) Frustrated with the lack of movement, the three eventually went public in the fall of 2016. The church countered with a statement saying it had "attempted to provide pastoral guidance" to the men. The pastor, who later apologized to the men on camera for not reporting to the authorities what they told him about their assaults, was placed on sabbatical and the merger reframed as a land deal to avoid legal trouble.
Pastor Andy Savage, according to Highpoint, will be placed on leave and a "third party" audit performed to evaluate both church policy and Andy's ministry. "We want to maintain trust in both Andy and our church leadership," said Conlee on Thursday night, and "we will continue to support Andy an his family."
"I think it speaks to the celebrity nature of his position at Highpoint," says Hansen of the on-air interview and Savage's leave. "In everything that he said, he placed blame on basically everyone other than himself, including Jules."