After going to karaoke for my birthday and watching the few and far between videos that were recorded with the original composition in mind, I realized that my idea of what it meant to be an adult was completely different in the '90s. The internet was not a thing. Hanging out in a field with big groups of friends in jeans was their internet.
What a weird time:

What's going on here? The guy in the back is so excited to be shirtless and this guy on the right is too hype about that piece of barley. Why is he the only one wearing sunglasses? What is so exciting about standing in a field with two other people?
Will Smith and DJ Jazzy Jeff, "Summertime"
G/O Media may get a commission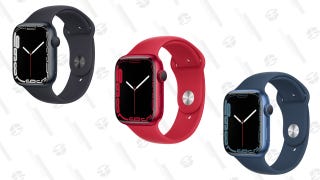 Up To $45 Off
Apple Watch Series 7
It's summertime. The weather is nice. Rather than lie on your couch and play Nintendo or go to a beach or something, why not just sit in tall grass that probably has mosquitos in it?
Now it's fall, and everyone knows that the best place to listen to R&B jams from a movie about cartoon animals playing basketball is in a forest. While the ballad is touching, its lyrics reference being in a wooded area exactly zero times. Who came up with this?
At least Shania was singing country music in this field, because that's kind of their whole thing…
Britney got real ~deep~ and felt her feelings in this long-forgotten ballad. Not only was she in a field (or backyard?), but she's also doing that cliché sitting-on-a-swing-while-brooding thing '90s music videos were so fond of…
Christina Aguilera gets an honorable mention even though she is completely alone on a weird patch of sand with a little flora here and there. The biggest question in any of these music videos is "Why?" followed by "How long 'til you get super bored with standing/sitting/lying in this stupid field?"
Let these stills serve as a reminder of how disenchanting life was before apps and social media…
Akilah Hughes is a comedian, YouTuber, and staff writer and producer for Fusion's culture section. You can almost always find her waxing poetic about memes and using too many emojis. 🍕