Today, GQ unveiled its latest cover star, John Boyega. It turns out that he's the fourth black man in a row to appear on GQ's U.S. cover.

After writer Kima Jones pointed out that John Boyega's cover marked the second black GQ cover in a row (following Mahershala Ali's fun in the sun-themed cover), the mag's Twitter account helpfully pointed out that he was in fact the fourth black man in a row to grace the cover. Earlier this year, Chance the Rapper shared a special double cover for February with The Weekend, so of the nine covers so far this year, six have featured black and mixed race men. That two thirds of GQ's covers have featured black men is pretty remarkable, especially since Cosmo hasn't featured a single woman of color so far in 2017.
GQ actually has a pretty good track record when it comes to featuring men of color compared to other mag. Five of its 16 2016 covers and four of its 15 2015 covers featured men of color. But 2017 is still an increase on those figures.
It makes sense, though: these are some of the biggest celebrities in the world. Chance and The Weekend are two of the top names in music. Steph Curry is, well, Steph Curry, the Rock is universally beloved, Mahershala Ali was in two critically acclaimed films and became the first Muslim to win an Oscar, and of course, John Boyega is a rising star and a main character in one of the biggest movie franchises in the world. So really, GQ is meeting black excellence where it's at.
G/O Media may get a commission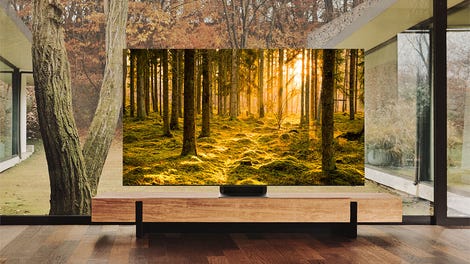 Up to 40% off
Samsung Smart TVs
But of course, these covers don't necessarily signal a permanent, meaningful change. Magazine covers are a reflection of pop culture at large, and it's hard not to worry that, if the recent trend toward diversity ends up waning somewhat, GQ will find itself suddenly less beholden to the diversity it's currently supporting.
Also, these covers don't mean GQ isn't failing in representation in other ways. Only four Latinx men and one Asian man have graced the cover since 2010, not including the multiracial Bruno Mars, who is of Filipinx and Puerto Rican descent. I'd love to see people like John Cho, Steven Yeun, Dev Patel and Aziz Ansari on GQ covers.
So yes, obviously it's great that so much black talent and success has been covered by GQ this year, but hopefully it and every other magazine can take that as evidence of how easy and good it can be to reflect the full spectrum of diverse talent in the world.