According to a Bloomberg report, Canada is losing money faster than any other country in the developed world. Or, in Bloomberg's words, "Money is flooding out of Canada." Yikes.
The analysis comes from Bank of America Merril Lynch strategist Kamal Sharma, who compared Canada's basic balance—broadly, all of the money a country has across its accounts—to that of other developed nations.
As you can see, Canada's dollar is trailing far behind the Euro, The Australian dollar, the U.S. dollar and others.
The numbers show that from June of last year to this past June, Canada's basic balance fell from a surplus measuring 4.2% of Canada's Gross Domestic Product (GDP) to a deficit of 7.9% of the GDP. The dismal figures shouldn't be all that surprising.
G/O Media may get a commission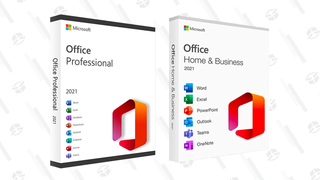 89% off
Microsoft Office Professional 2021 Lifetime License
Back in September, Canada officially sank into a recession. And plummeting oil prices have directly affected the oil industry, a major source of income for the Canadian economy. Bloomberg explains:

Crude oil, among the nation's biggest exports, has collapsed to about half its 2014 peak. The slump has derailed projects this year in Canada's oil sands—one of the world's most expensive crude-producing regions. Royal Dutch Shell Plc's decision to put its Carmon Creek drilling project on ice last week lengthened that list to 18, according to ARC Financial Corp.
The New York Times explains the plummeting oil prices as a simple, predictable dip. That, coupled with opposition to fracking projects, have put a damper on Canada's oil industry. Plus, retailers have been exiting the country at a rapid pace.
And, it seems, Canada's economy will remain weak in the coming year. The Financial Post reported last month that the International Monetary Fund (IMF) downgraded its prediction of GDP growth, from 2.2% to just 1%, for the rest of the year. Others joined the IMF in predicting slow growth. The Post reports:

The Organization for Economic Cooperation and Development cut its own forecast for Canada in September, saying weak commodity prices have generated "strong headwinds" for the economy… Canada was singled out by the OECD for one of its biggest downgrades for 2015, with the organization cutting its forecast for the country by 0.4 percentage points to 1.1 per cent. It also reduced its 2016 outlook by 0.2 percentage points to 2.1 per cent.
Still, it seems the country will soon emerge from recession. The Canadian Press pointed out at the end of September that "The country's economy grew 0.3% in July, a faster-than-expected rate that furthers a rebound in output following a technical recession in the first half of the year." TD Bank economist Diana Petramala told the Press that "The release of July's GDP [figures] provides further evidence that the worst of the Canadian economic soft patch is behind us and puts some upside to our view."
And the recession hasn't been that bad, according to Bank of Montreal's Chief Economist Doug Porter, who called it the "best. recession. ever." Guess we won't worry either, in that case.
Danielle Wiener-Bronner is a news reporter.