Prince released his best album in years on Labor Day. HitNRun: Phase One is a shapeshifting and socially conscious work with incredible production levels, spanning several genres. It's Prince doing what he does best—creating smart, beautiful, and unbelievably groovy music. But HitNRun: Phase One isn't in the iTunes library. It can't be streamed on Apple Music of Spotify. It's only available on Tidal.
It's been a long time since Prince has created such an enjoyable album. 2014's Art Official Age and PlectrumElectrum not only barely made a dent on the music economy, they were kind of a drag to get through. At the same time, they managed to feel decades old, and far too out of touch with who Prince is as an artist. On HitNRun: Phase One, Prince returns to his ideal form. But you need Tidal to hear it.
The music industry is attempting to lure listeners with exclusivity in new music releases. Most artists make money from albums immediately after they're released, when the hype machine is in motion. It's difficult to make money off of streaming songs, so musicians and bands make it a priority to sell music in the first few weeks after an album drops.
For an artist to grant exclusivity to any individual distributor, then, is to severely limit the profit made. Services like Tidal and Spotify are have constraints in terms of cash generated, because of the amount of money paid out in licensing fees. So even if Prince's album was streamed an infinite number of times on Tidal, it would make less money for Prince than if he just sold the album.
Exclusivity is not the norm in the music industry. Artists want their fans to love their music, but they also want money.
G/O Media may get a commission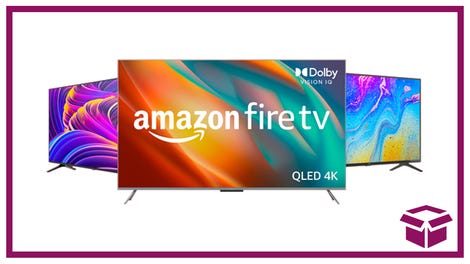 Ooh. stunning.
New Amazon Fire TVs
This, of course, doesn't exactly apply to Prince. He has money, having sold millions of albums in the '80s and '90s, and unlike most artists creating music today, he doesn't really seem to care about how the music industry usually functions. Prince believes in experimentation. Over the course of his career he's morphed, using dozens of different names (Revolution, the love symbol of Prince, the New Power Generation, the return to "Prince" and now with the backing band 3rdeyegirl). His discography is unbelievable—both in terms of output and range. Prince has released 34 studio albums that vary in sound from jazz and soul to hip-hop and straight pop. He's one of the most experimental popular artists working today—and was one of the first artists to release music on the internet. In 1997, Prince's album Crystal Ball was available exclusively on the internet. By 2000, Prince had his own internet subscription service, NPGOnlineLtd.com, where his fans could buy his work. This was three years before the iTunes store.
This isn't to say that Prince is a perfect visionary, but that his decision to release this album exclusively on Tidal could be a vote of confidence for the company, or simply a new thing to try.
Prince could have also decided to release HitNRun on Tidal because of his history of battles with record labels. From the beginning, Prince struggled to find a label that encouraged and supported his experimentation and sound. Prince spent the majority of his early career on the Warner Bros label, which helped him release some of his best-selling and most notable albums. (It was after the expiration of this contract in 2000, that Prince became known as a symbol). For five years, Prince floated label-less before signing to Universal in 2005, and then back to Warner in April of 2014.
Prince hasn't put out an album using a standard marketing and publicity plan in almost twenty years. Instead, he releases whenever he wants, performs whenever he wants. The terms of Prince's contract with Warner are undisclosed, but it's easy to believe that he's maintained a heavy dose of artistic control.
Without a promotional push for hype, this album could easily sink like a rock, without ever making an impact or creating a single ripple. Which would be insane, because HitnRun: Phase One isn't an album you bury. At just over 37 minutes for 11 tracks, it's a slim opus that flies by. Most tracks are around 3 minutes long—the radio ideal—and some are even shorter. But for now, HitnRun won't play on the radio. It's exclusively sitting on Tidal waiting to be found.
The first two tracks, "Million $ Show" and "Shut this Down," are two of the weakest on the album. They are soft, light, and ultimately emotionless tracks that don't set up at all for the talent and groove that comes later. The second half of the album is much stronger than the first with songs. From the sixth song, "This Could Be Us," a dreamy mesmerizing ballad, through the atmospheric slow jam of "June," Prince stuns as often as he surprises. On songs like "1000 Xs and Os," he harkens back to the romance of his 1991 album Diamonds & Pearls, while reminding listeners that he's still evolving.
Without a string of publicity interviews and reminders to buy an album, the only thing promoting HitnRun: Phase One is the music itself.
You can listen to HitNRun: Phase One here. New users can sign up for a 30-day free trial, or non-subscribers can listen to 30 second clips.
Kelsey McKinney is a culture staff writer for Fusion.