This morning, word leaked that CNN reporter Peter Hamby was leaving to become Snapchat's head of news. Outsiders to the media scene, and insiders who have been living subterraneously for the last 18 months, are no doubt shocked by the move of a star reporter from a prestigious old-line cable company to a four-year-old startup. And there will be hand-wringing in the Beltway press corps over Hamby's new job. (Politico's Dylan Byers postulates that "the move may frustrate and even confound Hamby's readers.")
From Hamby's perspective, the move seems like a no-brainer. Snapchat's Discover feature, just launched in January, is already one of the most popular video portals on the Internet. Videos posted on Discover reportedly rack up millions of views, and are viewed by a young, engaged audience that — although it might not be interested in CNN-style news broadcasts — has proven it's willing to sit through three-minute videos on a broad range of topics.
The cable news business, on the other hand, is struggling. CNN has been having a good year so far, among cable outlets, but its viewer numbers still pale in comparison to what the most popular digital video operations are putting up. In the first quarter of 2015, for instance, CNN averaged 570,000 total viewers for its Monday-through-Friday primetime shows, and just 207,000 viewers in the coveted 25-54 demographic.
It's not clear whether Hamby's news division will produce its own, on-air news shows for Snapchat, or will simply work to aggregate newsy content produced by ordinary Snapchat users. Snapchat and Hamby both declined to comment. But if he did want to be on air, a journalist like Hamby could dramatically increase his viewership by moving to Snapchat Discover. (In fact, according to some indications, he could double his audience even if he simply moved to CNN's Snapchat Discover channel, and stopped doing TV altogether.) At Snapchat, Hamby will get to ditch the formal conventions of cable news, and experiment with newer, more compelling forms of storytelling. (Hello, vertical video!) And he will get to create media for the kinds of young people who don't typically watch cable news.
G/O Media may get a commission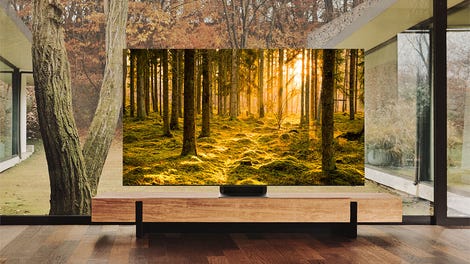 Up to 40% off
Samsung Smart TVs
What's less clear, however, is what Snapchat is doing entering the news business. The Times explains that the move may have been prompted by Snapchat CEO Evan Spiegel, who is "fascinated with the media industry and [holds] the curated editorial approach of some of the world's top publications in high regard." But while Spiegel's personal fascination might explain why Snapchat got into the media curation business with its Discover feature, it doesn't quite explain why the company may want to start covering the news itself.
Snapchat is hardly the first start-up with news-making ambitions. Earlier this year, Sasha Frere-Jones of the New Yorker leapt to annotation startup Genius, where he was given the title of editor-in-chief; long before that, Facebook and Twitter were poaching veteran reporters from the New York Times and the Wall Street Journal to run their nascent content businesses. Byers suggests that the closest analogue to the Hamby/Snapchat move is Politico reporter Ben Smith's decision to decamp to BuzzFeed in 2011, which was about "bringing credible news content to a social-facing organization that has pull with young audiences."
But I don't think making "credible news content" is Snapchat's primary motive here. For one, Snapchat doesn't particularly need to be in the credibility business. It's racked up hundreds of millions of users, seen its valuation balloon to a reported $15 billion, and turned its Discover tab into one of the fastest-growing media platforms in the world, despite the fact that most adults still think of Snapchat as a dick-pic app. If anything, "credibility," in the austere Beltway sense, would alienate Snapchat's users, an estimated 71 percent of whom are under 25. (CNN's median viewer age, for comparison's sake, is north of 60.)
Instead, I think the explanation could be much simpler: maybe Snapchat just thinks it can create better news than its current content partners. That's not a crazy thing to think; after all, if you've built the plumbing, you know what kinds of things will flow most easily through it. Snapchat's first two original series, "Literally Can't Even" and "Sip & Surf Party XXX," got panned by the blogosphere, but I suspect that the shows performed better than many other channels' videos. Unlike Discover channels that primarily repurpose web and TV content, Snapchat shot its own series vertically, taking full advantage of the mobile screens on which it's viewed. It looked better than other channels' videos, even if the content itself wasn't Emmy-quality. And as the creator of the ecosystem, Snapchat has an unfair advantage: access to granular data about each show's performance, which it can then use to improve the shows episode-to-episode.
As AdAge's Alex Kantrowitz points out, tech companies are notoriously fickle about maintaining their in-house media operations. Some tech companies decide, after an expensive foray into original media production, that they don't actually want to be in the content business after all. Content doesn't scale as easily as technology does, and the returns are slower and less lucrative. And it may be that, in the end, Snapchat users don't want news — in which case, Hamby's position may be short-lived.
But Snapchat is in an ideal position to be able to run large-scale experiments like these. Thanks to the success of Discover, it has a sizable foothold in the mobile broadcasting game. Publishers (including Fusion) have been running Snapchat-native content through the app's plumbing for months now. And Snapchat has been able to collect a huge amount of data about what works, what doesn't, and what users want to see more of.
In a sense, Snapchat in 2015 has the same choice that Netflix did in 2011: do we continue to rely on outside suppliers, each of whom wants to extract as much money from us as possible in exchange for letting us air their shows? Or do we want to open up our massive storehouse of data, run some predictive analytics on it, hire some stars, and make the damn shows ourselves?
For Netflix, the original-content path made total sense: it had already built the infrastructure for mass TV consumption, and simply had to jam House of Cards in alongside the shows and movies it had licensed from other companies. For Snapchat, it's a little trickier, since the core function of Snapchat is still user-generated content (in the form of snaps and Stories). We still don't know whether the teens of Snapchat want to watch news qua news, or whether they're simply using the Discover tab as a time-waster between viewing snaps from their friends.
Even so, it's hardly a dumb bet to make. If you've built a large, lucrative theater that is standing-room-only at every performance, and you have the money to start making your own films, wouldn't you at least want to try?