As was first reported Monday night, the real estate mogul Stephen Ross donated $100,000 to a PAC which then spent $100,000 on digital ads attacking Zephyr Teachout, the progressive running for New York attorney general on an anti-corruption platform. The PAC Ross donated to, Committee for Justice and Fairness PAC, is a federal PAC that was registered in New York state on August 13, according to the New York Board of Elections.
According to the PAC's registration information available through the state Board of Elections' site, it is controlled by Sean Downey, who's listed on Hilltop Public Solutions' site as a partner in the firm's New England office. Hilltop is a political consulting firm with offices in many U.S. cities, but it's notable in this case because Hilltop is the "prime campaign consulting firm" working on Cynthia Nixon's campaign for governor, according to the New York Daily News. One of the firm's partners, Rebecca Katz, is a "key strategist" on the Nixon campaign, according to her bio on Hilltop's website.
So why is Nixon's top consulting firm also helping run ads against Teachout on behalf of a real estate tycoon worth more than $7 billion? Nixon's stand against billionaires has been a cornerstone of her campaign. But more to the point: It's bizarre for a consulting firm so closely involved in Nixon's campaign to also be involved in running attack ads against a candidate she's endorsed, someone who previously worked on her campaign, and someone who took on Nixon's opponent Andrew Cuomo in 2014.
When reached for comment by Splinter, Katz strongly criticized the last-ditch effort to attack Teachout:
These attacks are reprehensible and when I first learned today that they might be connected to Hilltop, I confronted my colleagues and frankly was disgusted by what I learned. Setting aside the fact that I am personally supporting Zephyr, I hold myself and my firm to a higher standard than this.
G/O Media may get a commission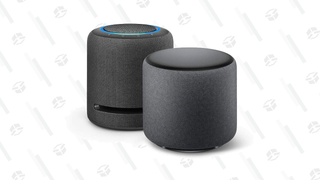 25% off - Prime Exclusive
Echo Studio + Echo Sub Bundle
When reached by phone Tuesday morning, Downey said he would reply with a comment later. (We'll update this post if and when he does.) Several hours later, Lora Haggard, who's listed as the treasurer for the federal Committee for Justice and Fairness PAC, texted to say:
I understand you reached out to Sean Downey regarding Committee for Justice and Fairness PAC. My name is Lora Haggard and I am the treasurer of the committee. I'm sending via text the amended statement of organization, filed Monday with NYBOE as the committee changed purpose. CJF is an Independent Expenditure Political Committee (IE PAC) duly registered in 2018 with the New York State Board of Elections for the purpose of making independent expenditures not coordinated with any campaign.
Haggard sent a PDF version of the amended statement of organization, the form needed to register the committee in the state of New York. When asked why Downey's name appeared on the original document filed with the New York Board of Elections and if that document was accurate when filed, Haggard did not reply.
In dual endorsements last month at an event in front of Trump Tower, Nixon offered glowing praise of Teachout:
I'm honored to stand with Zephyr Teachout, who embodies independent progressive leadership. She challenged Andrew Cuomo four years ago and showed the world that establishment Democrats aren't just unpopular, but beatable in New York State. I'm looking forward to standing shoulder to shoulder with her and a whole slate of insurgent candidates on September 13th to prove New Yorkers are ready to return our state to its rightful place as a leader of the resistance and a beacon of progressive ideals.
How does this happen? Maybe it's just because politics is a business to firms like Hilltop, and Ross was a paying customer. Maybe Downey went rogue and did the work without telling anyone else at the company. Maybe I am hopelessly naive for thinking any of this matters.
Splinter has reached out the Nixon campaign for comment and will update if we receive a response.