In an op-ed published a few weeks ago in the New York Times, Secretary of State John Kerry outlined the need for what he called a "global coalition" to fight the Islamic State in Iraq and Syria (ISIS), the non-state terrorist organization which has taken over broad swaths of Iraq and Syria.
"[ISIS has] already demonstrated the ability to seize and hold more territory than any other terrorist organization," Kerry explained in the piece. He noted that ISIS already controls territory bordering U.S. allies Jordan, Lebanon, and Turkey, and is "perilously close to Israel."
Yet when President Barack Obama last week enlisted nine allies from across the globe to create a coalition against ISIS, Israel was not included. The president also omitted any mention of Israel in Sunday's interview with Meet the Press, in which he presented his case for taking action against the terrorist group.
Analysts say Israel's participation in a U.S.-led anti-ISIS coalition will probably work best if kept on the down-low.
"Highlighting Israel's contributions could be problematic in terms of complicating efforts to enlist Muslim allies in this effort," said Michael Eisenstadt, a senior fellow at the Washington Institute for Near East Policy. "[It] would also provide propaganda ammunition for the very jihadis that we are trying to fight."
G/O Media may get a commission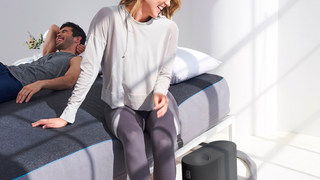 Eight Sleep Pod Cover
That propaganda could be especially potent now, considering the resentment that many in the Arab world feel towards Israel in the wake of the recent war with Gaza, according to Tamara Wittes, director of the Center of Middle East Policy of the Brookings Institution.
ISIS is a common enemy, but that doesn't mean partners in the Arab world want to publicize their teamwork with Israel, Wittes says.
"There is clearly a shared interest between Israel and some of its Arab neighbors to combat this extremist threat, but there is a lack of willingness from either side to engage in public cooperation at a time when the Israeli-Palestinian issue is still unresolved, and when many of those states still don't recognize Israel," she told Fusion.
Still, Israel's intelligence-gathering efforts in Syria and the region is likely providing important information to the coalition, even if quietly.
"There are some very important things that Israel could do as far as intelligence-sharing, and I suspect some of these things may already be going on," Wittes said.
There are some indications that may be happening.
A report released on Monday in the Jerusalem Post says Israel has provided "satellite imagery and other information" in support of the U.S.-led campaign against ISIS. An unnamed western diplomat allegedly told the newspaper that intelligence material is "scrubbed" of any evidence of Israeli origin before it is shared by Washington with Arab and Turkish allies.
Israeli Defense Ministry spokesman Yaacov Havakook told the Post that "We don't comment on any assistance by us, or if there is such assistance, in the fight against ISIS."
Eisenstadt likens the strategy to the role that Israel played after 9/11, when the country silently cooperated with U.S. and Jordanian officials in the early days of the War on Terror.
"[Obama] has said, 'security cooperation is at an all-time high ' between the U.S. and Israel'," Eisenstadt explained. "[Officials are] very willing to highlight particular aspects of that cooperation, and in other areas— not so much."
Tomorrow, President Obama is expected to lay out out his plan to fight ISIS with the coalition members. Don't expect Israel to get a shout out.
"Israel does have a significant role to play in this engagement," said Wittes. "It will just be very quiet one."
Daniel Rivero is a producer/reporter for Fusion who focuses on police and justice issues. He also skateboards, does a bunch of arts related things on his off time, and likes Cuban coffee.