Simone Biles just won her fourth gold medal at the 2016 Olympics in Rio, bringing her total medal count to five.
This, of course, is a feat in itself. But what is even more impressive is that for the first time ever, the undisputed star of the Olympics is a black woman. The pint-sized Texan gymnast has ruled the Rio Olympics, tying Carl Lewis' record number of gold medals for a black athlete in a single year.
We're accustomed to black men being breakout stars at the Olympics. Lewis, the legendary sprinter, won a total of nine golds over the course of five different Olympiads. Then came Canadian Ben Johnson, though his fame was almost immediately cut short by doping accusations. The American basketball Dream Team, led by Michael Jordan, Charles Barkley and Magic Johnson was next, and Michael Johnson put up world-record times in the 200m and 400m dashes before handing off the figurative baton to Usain Bolt, who dominates to this today.
But the list of black women who have earned the Olympics' largest spotlight has been all too small.
I asked Jere Longman, the New York Times' longtime Olympics correspondent, whether he believed Biles should be considered the first black female "face of the Olympics." He demurred, saying that deciding who was "first" was too subjective. He offered up two other candidates: Florence Griffith Joyner was a huge star at the 1988 Seoul Olympics, and Marion Jones was arguably the face of the 2000 Sydney Olympics (though, as with Johnson, her stature was soon cut down by doping troubles). Both of those women won three medals apiece, short of Biles' total.
G/O Media may get a commission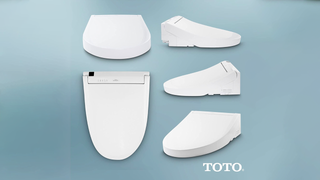 44% off
Toto Washlet Electronic Bidet Toilet Seat
Longman did point out that all black female Olympians owe a debt to Wilma Rudolph, who three gold medals at the 1960 Rome Olympics.
"Rome, I believe, was the first Summer Olympics to be broadcast in the U.S. And, of course, Wilma's performance in Rome now resonates far beyond sport to civil rights," Longman said. "You could argue that she has been the most impactful of any female African-American Olympian."
But Biles has basically been untouchable, tumbling throughout with a look of complete ebullience that betrayed an unshakeable confidence.
Perhaps the most impressive part of Biles' rise is how hyped she was prior to the Olympics, and how little that hype seemed to affect her performance in it, with the New York Times, among others, picking her as the athlete to watch. Martha Karolyi, Team USA's coach offered an explanation in June for why the press didn't affect her: Biles possesses an unshakeable nerve. "She's a great combination of physical abilities and strong mind. Oh, that's what we want. That's a package!"
Given that Biles is just 19, she could be the face of the U.S. Olympics team for many years to come.
Rob covers business, economics and the environment for Fusion. He previously worked at Business Insider. He grew up in Chicago.