For the first time in the character's 50-year-long history, Spider-Man's long-time love interest Mary Jane Watson will be portrayed by a black woman.
Yesterday, The Wrap reported that actress and singer Zendaya would be playing Mary Jane in next summer's Spider-Man: Homecoming, a reboot of the Spider-Man franchise helmed by both Marvel and Sony that would bring the adventures of Peter Parker into Marvel's already sprawling cinematic universe.
The announcement came as a surprise to many, given that the character, most recently played by Kirsten Dunst in Sam Raimi's Spider-Man trilogy, has historically been depicted as a white woman with a shock of red hair.
Some, like Black Girl Nerds' Jamie Broadnax, took the news in stride and pointed out that Zendaya's inclusion in one of the biggest superhero franchises of all time was a huge leap forward for representation of black women in nerd culture. For a small minority, though, the idea of a black teenager taking on the role was unfathomable.
Since Mary Jane is being played by a Black woman, can MLK be played by a White man in a next movie about him?
— Jason Bergkamp🐸 (@keksec__org) August 19, 2016
G/O Media may get a commission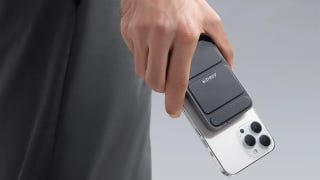 15% off
15% off Anker Top Ten Products
Take charge
Treat yourself to a portable power bank, a magnetic wireless battery for iPhones, or even a solar generator. There is a reason these are in the top ten. For instance, the Anker 747 Power Bank is a 4-in-1 charger utilizing USB-A and USB-C to be capable of charging up to four devices at once. Great to take with you when traveling and in need of keeping your phone, laptop, and even Nintendo Switch powered on.
"The 'fanboys' are upset because the character has been Caucasian for over 50 years," Twitter user and self-professed Spider-Man fan Mickey M said in a series of tweets. "The character debuted in 1965 in the comics, and has always been one race. The casting is a bold move by the producers."
Mickey's right. Casting Zendaya as Mary Jane was actually a bold move on Sony and Marvel's part, but that boldness isn't a bad thing. Rather, it's a that this Spider-Man might be the perfect modern-day update to a comic book legend that we all know.
Even though she's often written as being Peter Parker's damsel in distress, Mary Jane is as important a part of Spider-Man's mythos as the radioactive spider that bit him or even Uncle Ben. Mary Jane isn't just the girl that Peter has a crush on—she plays a key role in binding together the friends and family that he holds so dear and ultimately becomes one of the first people to discover his secret identity.
As both a romantic partner and confidante, Mary Jane is Spider-Man's conscience and moral compass all while retaining her own motivations and ambitions. She's an integral part to telling most of Spider-Man's greatest stories and the fact that she's now being played by a black woman means that an entirely new audience of people will finally be able to see themselves as a part of those stories.
In recent months, Zendaya has become one of the most visible, vocal young black women in Hollywood speaking out against racism within the industry. Last year during the Oscars, E's Fashion Police called the then 18-year-old out for wearing dreadlocks to the event, commenting that she might have "smelled like patchouli oil" or marijuana. In response, the actress took to Instagram to explain that "jokes" conflating dreadlocks with marijuana were racist stereotypes adding to the already complicated and problematic ways that the non-black public often speaks about black hair.
Between standing up for natural black hair and making a surprise cameo in Beyoncé's Lemonade, Zendaya brings a level of black girl magic to Spider-Man: Homecoming that won't just resonate with black, female audiences, it'll speak to the new kind of Spider-Man story that Homecoming is trying to tell.
Virtually every single person connected to Peter Parker in Marvel's original comic books and all of Sony's previous Spider-Man movies is white. A movie set in modern-day Forest Hills, Queens where a white kid has basically no interaction with people of color is possible, sure, but who wants to see that again?
Flash Thompson, Peter's high school nemesis, Ned Leeds, Peter's best friend, and Liz Allan, another of Peter's love interests, are all traditionally white characters who will be played by actors of color in Homecoming. After years of depicting Peter Parker's Queens neighborhood of being a bubble of lily-whiteness, Sony's finally decided to better reflect the actual communities that Spider-Man defends, and that's a very good thing.
Zendaya's casting as Mary Jane makes it abundantly clear that, for the first time ever, there'll be a series of Spider-Man stories that doesn't focus solely around the lives of white people. That's incredibly important, because a story of great power coming with great responsibility means so much more when you can see yourself in it.