TEQUILA, Mexico— Jose Cuervo used to be known as Don Jose Antonio de Cuervo. He was a hacienda owner who received the first royal permit to make tequila in 1758, when Mexico was still under Spanish colonial rule. Since then, his descendants have built the brand into the world's largest tequila company.
Now they want to go public. Jose Cuervo, which also owns 1800 Tequila, Kraken Rum, and Bushmills Whiskey, is expected to raise between $500 million and $1 billion in its IPO—potentially the biggest in Mexico since 2014.
The company's distillery is run like a theme park in the town of Tequila, which the company wants to develop as a tourist attraction complete with a museum and restaurants to become a "place where people can build a weekend house—like a Napa Valley,"  as Juan Domingo Beckmann, the company's sixth-generation director, told Bloomberg News in February.
But many locals say they resent that the Cuervo-led tourism boom that has turned their town of 40,000 people into an attraction for wealthier tourists. And the IPO could bring even more unwelcome change, some fear.
G/O Media may get a commission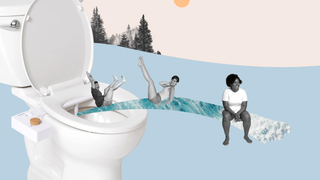 17% off
Tushy 3.0 Warm Water Spa Bidet Attachment
At the center of the company's plans is a manufactured strip of quaintness known as Cuervo World. The sprawling complex begins at Cuervo's flagship distillery and extends to the edge of downtown. Most tourists access it by foot, walking along the cobblestone streets that replaced paved roads to make Tequila look more traditional. The cobblestone tends to flood when it rains—sending tourists into precarious hops between stones. On Saturdays, some visitors arrive on a train called the Jose Cuervo Express. It evokes a 19th-century rail car with on-board mariachis and a tequila bar.
The effect created by Cuervo World's abundant ivy, dark wood, and arch-covered walkways could be described as hacienda chic. It's a clear break from the tour vans shaped like tequila barrels or sombrero-wearing chili peppers that crawl through downtown. The upmarket aesthetic could appeal to investors watching to see if the company can succeed in the high-end tequila market.
But in the countryside, Cuervo's windfall appears to have had little impact. Multiple residents told me the jimadores who cut the spines off the agave plants aren't making more than they used to. Unlike the managers at Jose Cuervo, who locals say are from out of town, the workers come from economically depressed regions in Tequila and nearby Amatitán.
Tequila residents praised the Beckmann family, who live in Mexico City, for paying for cleft palate surgeries, computers and psychological counseling for school children. Last year, the company earmarked .02% of its $275 million in profits towards helping the "vulnerable population" of Tequila, according to the Jose Cuervo Foundation's annual report.
But the need remains great. Nearly a third of people in Tequila didn't have access to enough nutritious food in 2010, according to data from Mexico's Census Bureau.
In 2009, José Hernández came to a similar conclusion about Tequila in his doctoral thesis. He wrote, "Next to this magical center there's a regular town with countless indigenous features … that, to put it simply, hasn't been touched by that magic."
When I spoke with Hernández recently, he lamented something that doesn't appear in the government data: The way public spaces have changed to accommodate tourists. Vendors used to sell produce on the square, but they've been displaced by souvenir stands selling things like cowboy-boot-shaped shot glasses. "The costs of the program are public, but the benefits aren't," he said.
Jose Cuervo did not reply to Fusion's request for comment.
About a 15-minute walk from the historic center, across the two-lane highway that cuts through town, is the type of neighborhood Hernández wrote about. It's called Obrera, or "worker," and like many small towns in Mexico, some of its residents have migrated to the U.S. to pick fruit. The only tourists who visit this part of town are heading through on their way to a waterfall further down the dirt road.
Joel Beltrow and his wife Lorena own a corner store in Obrera. A gauzy curtain separates the shop from their dining room. Beltrow says the only way the next door Tequila tourist attraction has changed life for him is by making everything more expensive. Tourism has been good for guides and taco vendors downtown, but not for people like him, he said. He thinks people would rather ignore places like Obrera.
It's a case of out of sight, out of mind. Back towards the historic center, the local government has plans to repaint the facades of the homes that tourists can see on their way into town. Because that's how it goes in the town that Jose Cuervo built.
As one tour guide operator told me, "Jose Cuervo isn't in Tequila. Tequila is in Jose Cuervo."