President Obama may finally be yielding to pressure for him to ease back on deportations of undocumented immigrants.
On Thursday, he called for a review of his administration's deportation practices, asking the Department of Homeland Security "to see how it can conduct enforcement more humanely within the confines of the law."
The White House's announcement is a departure from Obama's past claims that he could do nothing on his own to cut back on deportations. At the same time, It remains unclear how much the administration will be willing change its immigration enforcement policies as a result of the review.
Here are some of the factors that led us to today:
1. Mounting outrage from advocates
For years, Immigrant-rights groups have waged a non-stop campaign against deportations. Whether it be the dramatic reunification of a mother and daughter at the border or legal filings meant to change deportation policies, protests have kept the issue in the public eye. One group, the National Immigrant Youth Alliance, has even been encouraging people who have been deported to cross back into the U.S. as an act of resistance.
G/O Media may get a commission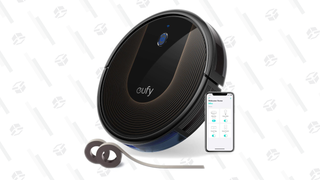 48% Off
Eufy BoostIQ RoboVac
The game-changing moment, however, may have come when Janet Murguía, the president of the nation's largest Hispanic advocacy organization, the National Council of La Raza, began to sharply criticize the president, calling him "deporter-in-chief."
Since then, several high-ranking Democratic lawmakers have said that Obama should curtail deportations. The Congressional Hispanic Caucus (CHC) reportedly wanted to issue a resolution condemning the president for his deportation record, which prompted a meeting on Thursday between three caucus members and Obama. The result: a pledge from Obama to review deportation practices.
"It is clear that the pleas from the community got through to the President," Rep. Luis Gutiérrez (D-lll.), one of those who met with the president, said in a statement. "The CHC will work with him to keep families together. The president clearly expressed the heartbreak he feels because of the devastating effect that deportations have on families."
For now, that appeared to mollify many immigration advocates in Congress. Members of the Congressional Hispanic Caucus will have the opportunity to meet with Homeland Security Secretary Jeh Johnson to discuss the administration's policies, the caucus said in a statement. And it will hold off issuing an official rebuke to Obama over deportations, Rep. Lucille Roybal-Allard (D-Calif.), a caucus member, said at a press conference on Friday.
Obama is scheduled to meet on Friday afternoon with representatives from a handful of immigrant-rights activist groups who have long been critical of his deportation policies.
2. Congressional gridlock
Until now, Obama's has allowed Republicans in Congress to have space to work on immigration reform.
That's why he's refrained from sharply criticizing the GOP over immigration or taking action on his own; Republicans have said both of those moves would hurt the chances of a bill passing the House of Representatives. The president appeared to be sticking with his strategy as early as a week ago.
"At a certain point the reason that these deportations are taking place is, Congress said, 'You have to enforce these laws,'" Obama said last Thursday during a town hall with Spanish-language media. "I cannot ignore those laws anymore than I could ignore, you know, any of the other laws that are on the books."
And Obama reiterated he believes House Speaker John Boehner (R-Ohio) is "sincere" about wanting to pass immigration reform.
But Republicans in the House have not shown that they are willing to tackle an immigration overhaul this year. In fact, they sent the opposite signal this week, when they passed two bills that seek to curtail Obama's use of executive power. Supporters of the bills cited Obama's decision in 2012 to grant deportation relief to certain young undocumented immigrants as an example of his unwillingness to enforce the law.
In his meeting with Hispanic caucus members, Obama urged them to continue to "put pressure on congressional Republicans to pass bipartisan comprehensive immigration reform as soon as possible," according to the White House.
But facing pressure from his own party, it may have become untenable for Obama to continue to wait for Republicans to act.
3. Obama's legacy
Sometime this year, the president will reach two million deportations during his presidency, an ignominious milestone in the eyes of many of his supporters. He doesn't want the "deporter-in-chief" label to be his legacy when it comes to immigration.
"I am the champion-in-chief of comprehensive immigration reform," he said during the town hall. "What I've said in the past remains true, which is until Congress passes a new law, then I am constrained in terms of what I'm able to do."
He has taken action to modify immigration enforcement in the past, however. In 2011, his administration issued a memo telling immigration agents to focus on high-priority deportations, a categorization that included people convicted of a crime and recent border crossers.
His biggest move came in June 2012, when he announced a new program that would provide work permits to undocumented young people who were brought to the U.S. at a young age. The program, called Deferred Action for Childhood Arrivals, also offers temporary protection from deportation.
Still, President Obama has deported immigrants at a record rate. With the chances for immigration reform looking bleak, activists want a reprieve from the executive branch.
Speaking with reporters on Thursday, Minority Whip Steny Hoyer (D-Md.) said that's understandable.
"The president is, from his perspective, enforcing the law," Hoyer said. "The problem with that, of course, is that it is causing a great deal of pain and suffering among families who are being separated."
It's questionable how far Obama is willing to go. Some activists want deportations to grind to a halt, an action that appears both politically and legally unfeasible for the president. But if the president doesn't take significant steps to ease deportations, pressure from advocacy groups — and even his own party — will likely continue to grow louder.
"Actions speak louder than press releases," Cesar Vargas, co-director of the DRM Action Coalition, said in a statement. "We hope the president's words are genuine and lead to concrete enforcement reform."
Jordan Fabian is Fusion's politics editor, writing about campaigns, Congress, immigration, and more. When he's not working, you can find him at the ice rink or at home with his wife, Melissa.
Ted Hesson was formerly the immigration editor at Fusion, covering the issue from Washington, D.C. He also writes about drug laws and (occasionally) baseball. On the side: guitars, urban biking, and fiction.