On the surface, the contrast could hardly be more striking. A week ago, the United States of America had successfully convinced a jury to put Dzhokhar Tsarnaev—the man convicted of carrying out the attacks on the Boston Marathon in 2013—to death.
The decision came in Massachusetts, a blue state that banned the death penalty more than 30 years ago. At a time when support for the death penalty is crumbling across the U.S., most Americans supported putting Tsarnaev to death.
But a week later, Nebraska, a red state that has traditionally been more supportive of capital punishment, moved forward in its attempt to repeal the state's death penalty. Nebraska lawmakers gave a final approval this week on a bill to get rid of the death penalty, and it now heads to the desk of Nebraska Gov. Pete Ricketts. Nebraska is on the verge of becoming the first conservative state to repeal the death penalty since 1973.
A blue-state conviction. A red state on the verge of abolition. That doesn't quite align with conventional wisdom.
"By seeking the death penalty [in the Tsarnaev case], they've guaranteed that this is going to be a very long, complex process," said Marc Hyden, the national coordinator of the group Conservatives Concerned About the Death Penalty.
G/O Media may get a commission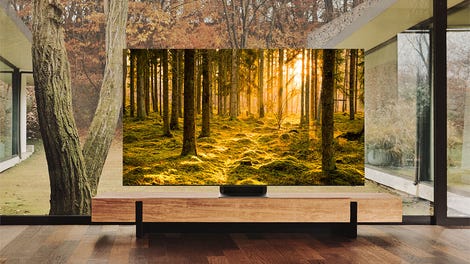 Up to 40% off
Samsung Smart TVs
"This is the federal government coming in and saying, 'we know what's best for you guys,'" he added. "And getting back to Nebraska, what's happening there is what I've been witnessing all across the United States."
For a little more than two years now, Hyden's group has aimed to frame opposition to the death penalty in a conservative light. His has traversed the country in that time, speaking to Republicans everywhere from state legislators to college groups.
And he gives them a similar message every time: The death penalty isn't a conservative solution.
It conflicts with a pro-life philosophy—flaws in the system have made it clear that it risks putting innocent people to death. It's not fiscally responsible—cases involving the death penalty typically run bigger bills, and it costs about $90,000 more each year to keep an inmate on death row, according to a 2008 study by the California Commission on the Fair Admission of Justice. And it doesn't represent limited government.
"It gives an error-prone state the power to kill its citizens," Hyden said. "You try to do some cost-benefit analysis: You ask yourself, what does the death penalty do, and what is it purported to do? It's supposed to deter crime. But if you look at the studies, the death penalty does not deter murder."
Studies emanating from New York and New Jersey have shown that those states' murder rates went down after they repealed the death penalty. Now, Nebraska is getting the message. Senators voted by a 35-12 margin in favor of the bill, in the last of three required votes.
During the debate this week, most of the bill's strongest defenders came from the Republican side.
"There are so many reasons why we need to eliminate the death penalty in Nebraska. It's fundamentally unfair, a terrible mistake and bad justice," said Sen. Al Davis, a Republican who represents Nebraska's 43rd district in the legislature.
Republican state Sen. Colby Coash, meanwhile, laid out much of the same argument as Hyden—that the death penalty is inherently un-conservative.
"Its something that's been on the books. It's not being implemented. It is costing our state money," Coash told NPR's Robin Young. "So we're approaching this from a good-government perspective and saying, 'Look, this is a program that's not working. We should just get rid of it.'"
But the state's death penalty still has one prominent supporter—Ricketts, the governor who has promised to veto the bill. He said in a statement last week that a vote to repeal the death penalty was akin to giving "our state's most violent criminals more lenient penalties." (Nebraska still has 11 inmates on death row, though none have been executed since 1997.)
But if the vote count holds, Nebraska lawmakers would have a veto-proof majority. They'd need 30 votes to override the governor's veto—a number they have met or surpassed in the three test votes.
"We're on the 10-yard line. We're almost there," Hyden said. "We just have to keep our head down at this point and keep moving toward the goal line."
Hyden hopes Nebraska's potential repeal will aid repeal advocates in moving the ball further into opponents' territory in more states.
Montana's Republican-dominated legislature fell one vote short earlier this year. And other measures have been introduced in Kentucky, South Dakota, Missouri, and Kansas.
Asked if Nebraska would be a turning point, Hyden said, " I'd like to hope so."
Brett LoGiurato is the senior national political correspondent at Fusion, where he covers all things 2016. He'll give you everything you need to know about politics, with a healthy side of puns.