After the lone transgender character on Orange Is the New Black is sent to solitary confinement, Gloria Mendoza spends much of season four doing everything she can to get Sophia Burset out of the SHU. Selenis Leyva, the actress who plays Gloria on the Netflix series, also has a passion for giving voice to those in need, and that passion runs in the family.
In countless interviews and op-eds, Leyva has used her platform to speak out on important but often undiscussed issues like intimate partner violence and the needs of trans women of color. Her younger sister, Marizol Leyva, is also an advocate for the trans community, having shared the story of her coming out and transition in a series of powerful essays published on Latina and Cosmopolitan.
That's why the Anti-Violence Project is honoring the sisters, along with Deutsche Bank and Stan Ponte, at their annual Courage Awards ceremony this Thursday in New York City. The night celebrates members and supporters of the LGBTQ and HIV-affected community for their activism and advocacy. For Marizol and Selenis, it's an honor that hits especially close to home.
A few years ago, Marizol found herself in a horrible situation, one that she was desperately searching for a way out of. "I was in an abusive relationship," she said in a phone interview. "It got to the point where I could no longer deal with it and needed help to get out of it."
G/O Media may get a commission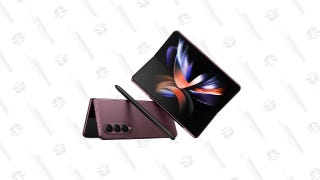 Save Up to $300
Galaxy Z Fold4
After hearing about this, Selenis reached out to Laverne Cox, her Orange Is the New Black co-star who plays Sophia Burset on the show.
"Laverne said, 'You need to reach out to the Anti-Violence Project. Those people over there are the real deal,'" Selenis told me. "AVP is such a wonderful foundation that really does what they say they do. From their 24-hours, 7-days-a-week bilingual crisis line to their legal department, these folks are so committed and so wonderful. We know firsthand."
"They really helped me move forward and get out of that situation," Marizol added. "They were really attentive and listened to my issues and tried to find ways to give me resources to move forward in my life."
Today, Marizol is a 26-year-old aspiring model with a passion for the culinary arts. She has even been able to help out friends in the community who find themselves the victims of intimate partner violence, something that trans people of color are especially vulnerable to.
"I had a girlfriend, another trans woman, who was assaulted," she said. "The man was arrested, but she was never notified when he was released. He lived in her building. She was freaking out, and I said, 'Listen, girl, you need to reach out to AVP. They will help you out.'"
"These communities are so underserved, particularly the Latino and African-American ones," Selenis added. "Trans women of color are being murdered. These outreach programs in the Bronx and Queens are vital."
"There's still a lot of violence against the transgender community," she continued. "As much as we have seen changes and the success of pioneers like Laverne Cox and Candis Cayne, we need to focus on the people who do not have the glitter and glamor. Caitlyn Jenner's journey has been very different from most trans people's journeys, and most of the people in the community do not have the money to complete their transition, should they want to go that route. Lack of employment is still a huge issue for the trans community in 2016. Education needs to be more LGBTQ-inclusive. We all have someone who belongs to the LGBTQ community—you may not even know it—and they deserve to live their life just like you and I."
Bad at filling out bios seeks same.