JUPITER, Florida — Onesimo "Marcelino" Lopez-Ramos was savagely beaten to death in the brief time it took Heather Burga to go inside to use the bathroom.
From the window, Burga saw a sudden frenzy of flashlights darting across the darkened yard, where moments earlier she had been quietly drinking a late-night beer with her friend Marcelino and two of his family members.
"No one was yelling; it was just commotion—suddenly there were people running all over the yard," she said, remembering the night of Friday, April 17.
When Burga returned outside, 18-year-old Marcelino was slumped dead in the driveway, laying face-down with blood spilling from his head. The mysterious assailants had scampered off into the thickening night, leaving Burga and Marcelino's injured brother to wait for the police in panicked disbelief.
G/O Media may get a commission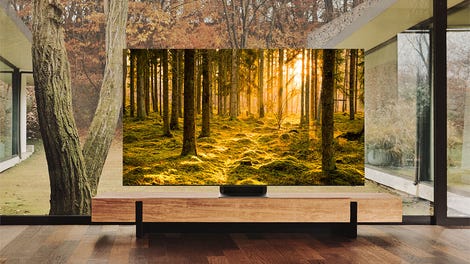 Up to 40% off
Samsung Smart TVs
"The whole thing happened so fast!" she said.
The investigation happened fast too. Within a week, three local teens were arrested on charges of first-degree murder. Suspect David Harris admitted to bludgeoning Marcelino with a rock and an ax handle, which he says he swung "like a baseball bat." His brother Jesse Harris and fellow confederate Austin Taggart were also taken into police custody. Witness testimony suggests there could be another 2-5 suspects still at large. Police won't comment on the investigation.

We were out 'Guat Hunting'
The state attorney will ultimately determine whether to treat the murder as a hate crime, but police say Marcelino and his family were clearly targeted for being Guatemalans.
Murder suspect David Harris told investigators he and his friends were out "Guat Hunting," a derogatory term for stalking and robbing Guatemalan immigrants. The same term was repeated in Taggart's police statement.
The teens' casual use of that horrifying term raises a question: Is "Guat Hunting" a real thing in Jupiter, where nearly one in five people is Guatemalan? Or is it just some bullshit redneck coinage used by Harris' band of yobs?
A Fusion inquiry around Jupiter found the term "Guat Hunting" appears to be new, but the practice has been around for more than a decade. Police, Guatemalan immigrants, rights activists, white folk, and even the victim's brother said they've never heard of "Guat Hunting" before Marcelino's murder, but everybody in town knew exactly what it meant.
Jocelyn Skolnik, director of the immigrant-rights group El Sol, says Guatemalan immigrants in Jupiter have long been targeted as "walking ATMs," since most of them work as day laborers who get paid in cash. In other Florida communities the practice has been called "Guat Bashing." But overall, the situation in Jupiter —prior to this month— appeared to be improving, she says.
El Sol has worked with Jupiter police since 2006 to improve the security of Guatemalan immigrants, helping to make the town a "progressive and safe place," Skolnik said.
"I was walking down 6th Street at 9 p.m when I heard a truck coming up behind me. I turned to look and some guy was leaning out of the back and swung a baseball bat at me. I barely had time to jump out of the way," says Guatemalan immigrant Delmar Martin, a 32-year-old construction worker. "They weren't trying to rob me, just attack me. Sometimes they throw eggs or shoot at us with BB guns. Other times they just yell names at us, calling us 'motherfucker' or 'bitch'."
William Chilel, a 22-year-old Guatemalan immigrant, says he's so afraid of men in pickup trucks that he never leaves his house after dark.
His friend, 23-year-old Marvin Ramirez, likens the local bands of yahoos to "maras" — the violent Central American gangs that many Guatemalans fled to come to the United States.
"We're running from the maras in Guatemala just to come here and find the same thing," Ramirez told Fusion. "It's not fair."
The difference, he adds quickly, is that the local thugs are not nearly as violent as the maras back in Guatemala, and the police in Jupiter are much better. "Here the gangsters are afraid of the police, so things are calmer," he said.
Guatemalans in Jupiter speak highly of the police, and say they feel protected by local law enforcement.
But even then, many say they're concerned about their safety— especially at night. Marcelino's older brother Donald, who extolls the police for collaring three of his brother's suspected killers within a week, says he's afraid the remaining members of Harris' group will return to his house to avenge their jailed friends or silence the witnesses.
"I'm afraid to go out in the streets, because I don't know how many of them are still out there," Donald told Fusion, in his first interview with media since his brother's murder.
"I have been here 10 years, and I've never had problems with anyone. My little brother didn't either. He only worked and came home and went to church. We're evangelicals," he said. "We are humble people. We don't get involved in anyone else's business. If those guys were ['Guate Hunting'], then I really don't know what to say."

Fixing what's broken
Jupiter Police Chief Frank J. Kitzerow, an avuncular type who has earned the praise of the local immigrant population, insists gangs are not a serious issue in Jupiter. And he says law enforcement is working hard to keep it that way by monitoring graffiti and keeping close tabs on the known gang bangers.
"I won't say that they're not here, but I will say that we work very hard to not let them get organized," he said.
The police chief urged his town's immigrant population — those documented or otherwise— to report all crimes to the police because "you can't fix what you don't know is broken."
Part of identifying what's broken means looking into hallways and classrooms of Jupiter High School. While El Sol has worked hard over the past decade to protect the rights of Guatemalan laborers, defending the rights of Guatemalan high school students presents an entirely different set of challenges.
High school bullying has become a growing concern among the Guatemalan community in Jupiter, and some are concerned there are gangs operating in the schools.
"There seems to be under the surface a lot of tension in the younger community, in the high school, which we intend to do some more work on," El Sol's Skolnik told Fusion. "I think [Marcelino's murder] is bringing some things to light that we need to see so we can address them and work together for a better community."
Marcelino attended Jupiter High School for one year, but had trouble in class and dropped out, according to his brother. It's not clear whether Marcelino knew any of his assailants from school; witness testimony says Marcelino walked to the edge of his yard and shook hands with one of the teens moments before being bludgeoned to death.
Police Chief Kitzerow said he is also intent on finding out "what exactly is happening" in the schools. In conjunction with El Sol, the police and Juniper High School's principal this week started an anonymous complaint box at the community center, where students can inform authorities about problems in school.
Principal Dan Frank told the Guatemalan community this week that he's encouraging open communication. He then declined an interview request by Fusion, and didn't answer our questions sent by email.

Remembering a friend, co-worker and brother
Friends and family remember Onesimo "Marcelino" Lopez-Ramos as hard-working, responsible, and eager to make his parents and co-workers proud.
He moved to Jupiter two years ago to help support his family after his older brother Donald, the family's main breadwinner, injured his hand and could no longer work in construction. He tried to balance school and work, but "didn't like school" because he was "timid and had trouble with English," Donald says. He quickly dropped out and started working seven days a week.
"I took care of the family, but when I got hurt he said, 'Don't worry, I will take care of mom and dad until you recover'," Donald says in a soft voice. "He sent remittances to our parents in Guatemala. He wanted our parents to be proud of him, and he achieved that because he was a very responsible kid. He worked 10 hours a day, and never had a problem with anyone. He got up, went to work, then came home."
Co-workers at Grande's Bella Cucina, where Marcelino went from being a dishwasher to a pizza cook, remember him with sad fondness.
"He had the best dimples. He lit up the room. He was a love, and we were his second family," says Donna Hudon, the restaurant's matriarch. "He was so kind for a young man. I miss him."
The Guatemalan guys in the kitchen are also torn up.
"We loved each other like family, because we were neighbors back in Guatemala, too," says chef Marvin Arturo Perez, wiping away tears with quick, apologetic jabs with his forefinger. "He was a good kid. He worked seven days a week, like me. We drank coffee together every morning. We worked together like a family. It was really beautiful. My heart is broken, it really is."
Perez says he's felt safe in the 10 years he has lived in Jupiter, and never heard Marcelino — who often pedaled to work on his bicycle — express concerns about his safety.
"Marcelino lives in our hearts. He's not dead. He lives in our hearts," adds fellow Guatemalan coworker Marcelo Benito, who looks more than a little bit like Red Sox Hall of Fame pitcher Pedro Martinez.
Back in their humble home on 4th Street, Marcelino's siblings are still struggling to make sense of a senseless act of violence.
"I loved him a lot. He was my little brother and a friend to me," Donald said, blinking quickly.  "Truthfully, I don't know why people do this sort of thing."