CHARLOTTE, N.C.—Bernie Sanders is hoping for a strong showing in the five states that vote Tuesday as he tries to come from behind in the race for the Democratic presidential nomination. But he faces a unique problem here in North Carolina.
Charlotte is the second-largest banking city in the United States, and the financial services industry helps to drive a huge portion of the economy of the Carolinas. Given that Sanders has consistently painted America's bankers as being engaged in fraud, has he already alienated a large portion of the electorate?
The answer seems to be a clear no, at least among the younger generation of bankers. Indeed, many of them agree with him.
"The banks deserve it," says one 33-year-old Sanders supporter at Bank of America. "I'm against privatized profits and socialized losses. They cannot have it both ways."
G/O Media may get a commission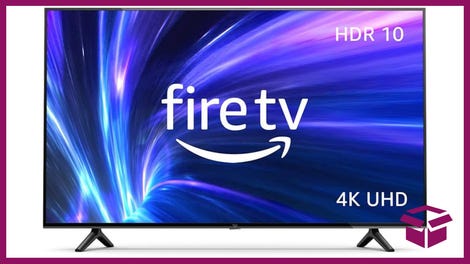 42% Off
Amazon Fire TV 50" 4K Smart TV
Fusion spoke in person and by phone with employees of Bank of America and Wells Fargo, the two biggest banks in Charlotte, and agreed to withhold their names because bank policy prohibits employees from being quoted by name.
This employee agrees with Sanders' stance on banks: "Wall Street has been making irresponsible decisions. They make risky decisions knowing that tax money will bail them out. Wall Street is greed with no rules."
The possibility that a Sanders administration could mean she loses her job does not deter her. She says, "If Bernie breaks up the banks and it changes my job, I am more than willing and even happy to accept a temporary job disruption for the greater good and a safer economy."
More generally, when you talk to young bankers in Charlotte, there's no indication that Sanders' message to Wall Street has damaged his support here. Even Republicans like Duncan Wilson, 32, a financial planner who is not supporting Sanders, acknowledge that banks are looking out for themselves. "Sanders is talking about the right problems," he says. "He has integrity, and I trust him when he speaks."
How can these young bankers feel the Bern even as he attacks their very livelihood? Easy: They say he's not talking about them. "I am not in the investment side of banking. That's where the issues are," says Wright Lea, a 30-year-old Wells Fargo employee. "If he was talking to me, then I'd have a big problem."
His 35-year-old colleague, a registered independent, similarly doesn't feel targeted. "He is talking about people who run Wall Street," he says, "not the people who are at the bottom."
In Charlotte, it seems, "Wall Street" is a New York thing, more than it is a banking thing. Says one 35-year-old woman at Bank of America: "I do not identify with Wall Street. Big banks in Charlotte are made up of everyday people, trying to make a living and support their community." She adds: "I do feel separate from the Wall Street bashing. The work we do every day is focused on making the financial lives of our customers better. Because we keep that focus, rhetoric about big banks and Wall Street is easier to ignore."
The fact is that even among bankers, Wall Street doesn't really feature on the list of top political issues. Immigration reform is much more important for those interviewed, along with the war on terror, women's rights, equality, and education.
Not all of these bankers will end up voting for Sanders, of course. But even the die-hard Clinton supporters are happy to concede that Bernie is great at connecting with the younger generation. Message received: Keep on bashing the banks, Bernie. No one will hate you for it. Not even the bankers.