For a long time, I was convinced I'd never see a fight between Floyd Mayweather and Manny Pacquiao. After the first set of negotiations between the two failed in 2009, I fought the urge to stand outside of their gyms with a radio over my head, playing love songs begging for them to talk again. Moving into the acceptance stage, that the fight of the century just wasn't going to happen, I stopped participating in barbershop debates about a potential match-up and refocused on other fighters in the boxing world who were making noise.
My heartbreak was justified. Any given boxing match isn't just about the two fighters in the ring - it's a quagmire of regulations, cable deals, licensing agreements, and personal politics.  But on May 2nd, after two failed negotiations, 38-year-old Floyd Mayweather and 36-year-old Manny Pacquiao will meet for a fight that was seven years in the making. With a $200 million and the welterweight champion title on the line, boxing fans have no idea what to expect. Though the two have never faced off, their fates - and respective legacies - are tied together like yin and yang.
Saturday's match isn't just any fight: Mayweather is an undefeated 11-time world champion and Pacquiao is an eight-division world champion, and the delays in getting them together only served to hype the match even more among fans. On one side are the Pacquiao fans, who view the match-up as the ultimate battle of Good vs Evil: In their eyes, the Philippines-born fighter is an angelic humanitarian statesman who will pound a greedy, salacious domestic abuser into the ground. To Floyd "Money" Mayweather's fanbase, Saturday's match is the fight that will cement the Michigan native's legend as the greatest, undefeated world champion.
The truth is a little more complicated, of course. (Both fighters, for one thing, are philandering tax evaders, though Pacquiao fans ignore that fact while Mayweather appears to celebrate them unapologetically.) Pacquiao carries the weight of an entire nation as "the fist of the Philippines," a man who rode his popularity into a political career in his native country. Mayweather, for his part, is seen as the American boy who pulled himself up by his boxing gloves and could usher in a new golden era for boxing…if he can keep increasing fan interest.
• • • • •
To me, boxing, is the sporting manifestation of life. In the ring, taking a few shots or getting knocked down isn't the end - there is still a chance to redeem oneself by getting back up and fighting back. My introduction to boxing came by way of my father and godparents. Like most men of his generation, my dad was a huge fan of the great Muhammad Ali and later Sugar Ray Leonard. With books and stuffed animal in tow, I occasionally joined him in the den for fights and his version of color commentary. Positioned in his corner brown leather recliner he pointed out skills and attributes that distinguished the good from the greats. Around the corner at my Godparent's house, watching boxing was part of life, sandwiched between German war stories and hands of Bid Whist.
G/O Media may get a commission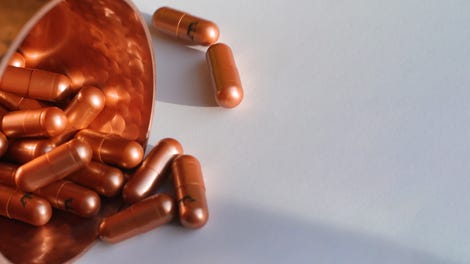 health
The Lyma Supplement
Though my generation lacks a Sugar Ray Leonard or Muhammad Ali — and baseball and football are still the most "American" of professional sports in this country — the data about rapidly changing demographics and sports tastes in the United States shows that the popularity of boxing is on the rise. According to Scarborough Research, a sports focused market research company, boxing's largest fan base is Latino, with Mexican and Puerto Rican fans dominating the category. (I'm slightly out of the demographic - according to Scarborough Research, only 27.6% of avid boxing fans are women, and only about 26% are black.)
This has not escaped the notice of those inside the ring: A little less than eight years ago, on May 5, 2007, after Mayweather defeated Mexican superstar Oscar De La Hoya after twelve rounds, Mayweather capitalized on the chance to win a new audience and coined the Mexican holiday "Cinco De Mayweather." The Mexican boxing fan demographic is considered so important that as part of the pre-game trash talk earlier this week, Pacquiao began to claim more Mexican fans "are coming to my side."
The renewed interest in boxing also means that those in and adjacent to the industry are seeing dollar signs. According to SB Nation:

Everything about Mayweather vs. Pacquiao is a record of some sort, price-wise. Ticket prices are at a record high — the opening price for the cheapest seats was $1,500, although this was before resale prices skyrocketed — and quickly sold out. Closed circuit TV viewing sessions are priced at a record high — $150 a seat — and quickly sold out. And of course, pay-per-view prices are at a record high — $99.99, breaking the previous record of $74.95.
But the money pouring into the coffers is just a shallow reflection of the importance of this fight to the boxing world.
• • • • •
I had already gone through the six stages of grief over the match that would never be when a chance meeting occurred between Floyd Mayweather and Manny Pacquiao at a Miami Heat game in January, 2015.  Sitting in the stands with the rest of the crowd, and CBS egging them on by flashing their faces on a split screen during the game, the arena crowd and fans watching at home went wild, wondering if they were going to receive the announcement they'd long waited for. I never liked the Miami Heat (I'm a purple-blooded Laker fan) but I'd like to personally thank them for getting the gents in the same place at the same time.
Now, of course, we have a match. The taxation drama, domestic violence allegations, and drug testing battles are behind us - all that remains is the relevancy of this fight.  Mayweather has pledged to retire when his six-fight deal with Showtime is complete.  And although reports of a retirement are little more than rumors at this point, the Filipino sensation's final dance is looming in the near future, possibly as soon as 2016, according to The Guardian.
This is the fight of our generation, important not just because it will reveal the undisputed king of the modern day welterweight division, but because Mayweather and Pacquiao, in some way, represent the best and worst qualities of us all. This fight matters because it shows that our destinies begin when other people stop dictating the terms of our lives: It wouldn't have happened if not for the fact that each man made the decision to shape his own narrative when he crossed a basketball court, exchanged a phone number, and spoke directly to the other. No matter the outcome, the Mayweather/Pacquiao fight will be a manifestation of personal power, a dream realized. It's almost too wonderful to be true.
Infusing technical knowledge, humor and a diversity of writing voices, BadCulture.net founder and CEO Jeandra LeBeauf has become an innovative leader in the coverage of sports, lifestyle and entertainment. As an esteemed boxing pundit, her investigative writing has been cited and featured on RING Magazine, Boxingscene.com, FightHype.com, BadLeftHook.com, Maxboxing.com, and The Boxing Channel.