When done right, pornography creates the illusion that its stars exist in a state of perpetual fantasy. But what may look like great sex to viewers is often a series of carefully negotiated agreements between professional actors and their directors—and as some of the recent assault allegations against adult film megastar James Deen reveal, things don't always go as planned.
Which is why, in the wake of these charges, industry insiders and observers alike are putting a spotlight on the question of consent: What does "yes means yes" look like when the cameras are rolling—and when they stop?
In what would have been a surprisingly proactive move to address this question, Adult Video News, the organizers of what are widely known as the "Oscars for porn," announced in December that they would be hosting a panel on consent at the popular adult expo leading up to the awards—mere hours before prizes were to be handed out at a ceremony in Las Vegas.
Not only that, but a spokesperson told me that the panel would feature Stoya herself—the writer, adult film performer, and ex-girlfriend of Deen, who publicly accused the actor of rape and inspired at least eight other women to come forward with their own allegations of assault. Even before accusing Deen, Stoya wrote about the importance of consent in pornography in a first-person column for Fusion, arguing that it is "absolutely necessary."
So why was the event quietly cancelled, without so much as a tweet? Why was it swept under the rug at a time when public pressure to confront the issue both in adult film and the wider world has never been greater? The event's organizers told me it came down to "a lack of participation," but interviews with adult industry insiders paint a more complex picture of what might have happened.
G/O Media may get a commission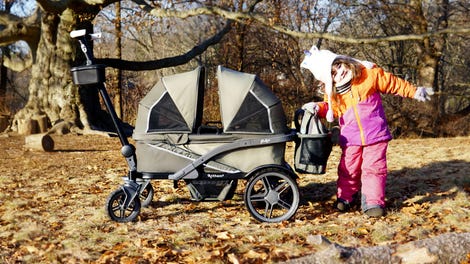 30% off
The Anthem All-Terrain Stroller Wagon Adventure Bundle
Go everywhere with your kids
This must-have bundle nets you either of Gladly's award-winning Anthem2 or Anthem4 All-Terrain Stroller Wagons as well as must-have accessories like a parent cupholder, a removable storage basket, extra-large canopies, a nap system, quilted comfort seats, a cooler bag with a padded shoulder strap, and a travel bag.
On AVN's website, the panel was billed as "Consent Degrees: Yes, No and Everything in Between," and the description suggested a thoughtful and meaningful discussion:
"Adult performers of all gender orientations operate in a world where they must create the illusion of ecstasy even though sometimes they may not always be having a good time. We'll bring together a group of experts and industry veterans to discuss how the adult community can work to make sure performers—particularly young newcomers—are comfortable about speaking up if they're not really down with what's happening on and off set."
The panel seemed poised to move the conversation about consent forward—and the timing was significant, given that Deen was nominated for nearly three dozen awards that evening, including Male Performer of the Year, Best Actor, and Best Director. (Deen, it should be noted, has not been charged with a crime and has denied all allegations.) What better moment to self-reflect than shortly before the industry would gather to toast its accomplishments?
For those who missed the maelstrom of headlines last fall, Deen has been accused of sexual assault both in private settings (by Stoya and others) and on adult film sets, while the cameras were rolling and when they stopped—it's the allegations of assault on set that have led some to call for a closer look at how consent is handled in the industry. Actress Amber Rayne claims Deen hit her in the face while they were shooting a rough scene. Actress Tori Lux alleges Deen forced her down on a mattress, straddled her, and struck her in the face on a film set, before grabbing her by the hair and shoving her face into his crotch against her will. "I felt pressured to maintain a professional demeanor as this was a major porn set, with other people present and failing to intervene," Lux wrote on The Daily Beast. "My goal in writing this is not to paint the industry as a whole as oppressive or dangerous, but to shed some light on one fucked up personal experience of mine," she wrote.
Deen has since responded publicly to the accusations from Stoya and the women who accused him of violations on set. A day after Stoya tweeted that he had raped her, the actor tweeted, "I respect women and I know and respect limits both professionally and privately." And in an email interview with Aurora Snow, a former adult performer and contributor to The Daily Beast, Deen further explained, "My job as a performer for rough sex companies is to engage in certain acts. If at any point I pushed boundaries past the point of comfort, I am sorry."
While these claims have thrust the question of consent in porn into the headlines, the issue, of course, is bigger than Deen—and the panel promised to explore working conditions for the industry as a whole. I had been granted "behind the scenes" interviews with participants, and thought, perhaps naively, that the event might even offer lessons about consent that would resonate beyond the adult film industry.
But when I arrived from New York at the Adult Entertainment Expo at the Hard Rock Hotel and Casino in Vegas last week, spokespeople for the event told me that the panel would not be happening that Saturday as planned, with little explanation. After Fusion broke this news, The Guardian reported that the organizers canceled it after they learned that Stoya, who was supposed to "anchor" the panel, was no longer coming to Vegas.
But Stoya announced that she would not be attending the AVN Awards a week earlier on Twitter—why keep the panel listed on the expo's calendar of events? And Stoya's participation aside, why not take the opportunity, as the panel promised, to convene industry experts and veterans and have an open and honest conversation?
My shares of TRENCHCOATx have been sold to Kayden, I'm not doing AVN, and I wish I could get out of hosting XBiz.

— Stoya (@stoya) January 13, 2016
After The Guardian piece ran on Friday, I asked AVN for more information about why it was called off and who else had been confirmed for the panel. "The panel was canceled due to lack of participation," the company's CEO, Tony Rios, told me over email. "We did not have anyone else confirmed for the panel."
Take a moment and imagine, if you will, that the actual Oscars had announced a panel on, say, racial discrimination in Hollywood—the non-adult film industry's comparable hot-button controversy this year—then, in the days leading up the awards, the organizers quietly cancelled it due to "lack of participation." There's little chance such a move could be shrugged off in the way that the AVNs have attempted to do with the consent panel, without even removing the event from their official lineup.
In an industry where one's career hinges largely on reputation and relationships, it is entirely possible that the organizers struggled to find insiders willing to speak publicly on the issue—particularly given that a conversation about consent would almost certainly involve discussing Deen, who many people at the expo were reluctant to mention. (Stoya did not respond to Fusion's request to be interviewed about the panel.) But whether or not they were able to find experts to participate, based on interviews I conducted, the organizers would still have likely found an audience for the event.
During my four days in Vegas, I asked several female adult film insiders about the panel, and nearly all thought it was a good idea. "I would definitely have been interested in a panel on consent," said Roxie Rae, a fetish model and producer with Saucy Pony Productions. "I think it's good to empower each other no matter if you just started or you've been doing this forever." Hope Howell, who has performed in the adult industry for six years, echoed Rae. "If I was new, I would definitely go," she said. "I wish there had been something like that when I first started in the industry."
And Heather Vahn, a performer who hopes to transition to the business side of the industry, told me, enthusiastically, "This is something I would need to know about as an agent, or as a producer," adding, "or even as a talent, just so you know what you're doing there on the set, anyway. I think it's valuable to be educated!"
However, some insiders argued that the AVN Expo wasn't the venue for this discussion—that the event is meant to be a celebration of porn, not a dissection of it. For those who haven't attended, the event is essentially a four-day porn lover's paradise. It's attended by more than 500 adult film stars and 25,000 fans, many of whom party together at night.
One such opponent was Joanna Angel, a veteran adult film performer, co-founder of the production company Burning Angel—and the co-host of Saturday's awards ceremony. Angel is also a former girlfriend of Deen, one of his accusers, and a vocal supporter of Stoya. Angel told me on Friday that she was glad the panel was canceled. "AVN is supposed to be celebratory," she said. "When you have a fan convention, the fans should just think about getting off."
She also suggested that perhaps the issue has been overblown. "A lot of the media loves to write about porn and dissect porn in so many different ways. They want to know everything that goes on behind the scenes," Angel told me. "Everyone wants to know everything about porn to the point where there's no allure in it anymore."
But at a time in which the importance of sexual consent is being stressed everywhere from women's magazines to college classrooms, it makes sense that the concept of consent in pornography would spark a public dialogue—and raise questions about how it's enforced. After all, we're talking about an industry in which employees are paid to have sex, and in some cases, to act out someone else's fantasy. How is consent currently handled?
For the most part, consent does seem to be addressed openly and directly, according to the insiders I interviewed. Before the cameras start rolling, directors and actors will agree—verbally or in writing—how scenes will play out. But what's less clear cut is what happens when a performer feels his or her consent has been violated. In those cases, he or she has little recourse.
"If I'm hiring a girl, she's got to be okay with what we're shooting," Roxie Rae, the producer with Saucy Pony Productions, told me. "I let them all know what the content is before. I like to get them on camera saying, 'This is my name, this what they're shooting.'"
Karen Tynan is a Northern California-based attorney who represents several clients in the adult entertainment industry, including Angel's company, Burning Angel, and the BDSM website Kink.com, on whose sets several of the allegations against Deen are said to have taken place. (Kink.com announced that it would no longer work with Deen after the assault accusations.)
Tynan told me that on most BDSM sets, directors will have lengthy discussions with performers about what will happen before they start filming. And many performers have "no lists"—lists of acts or scenarios they won't perform, or other performers they won't perform with. Agents can negotiate for their clients ahead of time based on these lists.
But, Tynan added, things get murky "when people's expectations are either worked around or not honored."
Theoretically, consent on an adult film set should work the same as off the set—all parties agreeing to sexual acts. But Chanelle Gallant, the writer, sex work activist, and founder of the the Feminist Porn Awards, put it this way: "Name one job you've had where you weren't regularly asked to do something that wasn't technically in your job description. Did you quit?" she asked me. "Probably not."
Gallant's point is that even with "no lists" and conversations about consent—which she agreed are industry standard—as in any industry, violations happen. Combine this reality with the fact that adult film directors, producers, and actors feel pressure to deliver the sexiest, most dynamic, most raw performances—and, if not handled carefully, the lines can blur between "yes," "no," and "maybe."
As Aurora Snow wrote on The Daily Beast before interviewing Deen, "From my experience, I've learned that certain professionals in porn have varying definitions of what rape is—yet the standard definition should still apply. On-set behaviors and attitudes that would be shocking to most and sometimes even criminal are normalized, and after years of performing, it can be hard to separate the work from reality."
Even when conversations are had beforehand, filmmakers may attempt to coerce actors once the cameras are rolling—without malice, to achieve the shot they want—which is why some are calling for federal regulations.
Mary Anne Franks, a law professor who co-produced the 2015 documentary Hot Girls Wanted, is part of the camp that believes the porn industry has done a poor job at regulating itself—and needs more government oversight. Specifically, she believes lawmakers should expand a federal statute that requires porn producers to prove their actors are at least 18 years old to address informed consent as well. "I think as a general rule, the industry is extremely averse to actors knowing what their rights are," she told me over email.
So what are a performer's options if he or she is assaulted on set? Basically, the performer can file an assault charge with police or take civil action and file a lawsuit—or both. But in a situation in which a performer is assaulted by a colleague on set at the direction of a producer or a director, the question would arise as to whether to bring a suit against the colleague, the director, the production company, or all three.
I wondered how frequent these cases must occur and what legal precedent exists for siding with or against the performer. Tynan surprised me by saying in an email, "We have not had a case where this has occurred as far as a lawsuit or criminal charges. Or at least none that I am aware." Meaning, either no performer has ever been assaulted on set or industry pressures have kept performers from seeking legal recourse.
In the absence of stricter regulation, one might wonder what would happen if adult performers banded together to demand stronger internal practices. The best bet for that would come from the Adult Performer Advocacy Committee, whose mission statement is "to provide representation for performers in the adult film industry and to protect performers' rights to a safer and more professional work environment." So far, the group's political work has mostly focused on whether condoms should be legally required on sets—but in the group's first meeting since the Deen allegations surfaced, members indeed discussed facilitating an industry-wide process for reporting sexual violations on set.
One hitch, which further illustrates just how small the adult world can be, is that Deen is a founding member of APAC and was previously part of the organization's five-person board. After the accusations surfaced, Deen voluntarily stepped down—but his current girlfriend, the adult film actress Chanel Preston, is still on the board. So there's that.
A panel on the role of consent in the industry—and how it's enforced—would have offered an opportunity to discuss all of these perspectives. And indeed, last month, someone at AVN thought the panel was a good idea. If AVN is to be taken at its word, these panels are thoughtfully selected: "The topics have been chosen in an an effort to reflect current issues and preoccupations in the industry, with the intent to help both companies and individuals flourish in an ever-changing industry," declares an AVN press statement for the expo.
So what happened? If nothing else, the panel must not have been as big a priority as the website would suggest, since the organizers gave up on booking even one expert to participate. It's also possible that everyone they approached declined to participate.
Deen, meanwhile, didn't take home any of the big prizes on Saturday, but he did win two ensemble awards, for Best Group Sex Scene and Best Double Penetration Sex Scene. Neither required him to appear on stage or make a speech.
After last week's events, I do know one thing: In an industry where many key players are literally and figuratively in bed with each other, having a candid public dialogue about the role of consent may prove trickier than initially imagined.
But as anyone who has ever had sex knows—nothing good comes easy.
Cleo Stiller is a digital producer covering the intersections of sex, tech and culture. Words to live by: get your money's worth.