CLEVELAND — Anastasia Malone and her mother, Vanetra, stepped out of their voting booths having cast their ballots for Hillary Clinton. Both wished they had better options.
"She's trash. He's trash. They're all trash," Anastasia said about Clinton and Donald Trump outside of St. John Nepomucene Church where she and her mother's polling station is located.
Vanetra shared her daughter's thoughts, saying that it really doesn't matter who wins today. As she sees it, her life will remain unchanged.
"I don't feel whatever she does will directly affect me," she said.
Clinton's fate could well rest on how many black women like Anastasia and Vanetra Malone show up to vote today—especially here in Cuyahoga County, where most of the state's black population resides. Though his black support has registered at 0% percent at one point, broader polls have Donald Trump in a close heat with Clinton, making black voter turnout essential if she is to have a shot her.
G/O Media may get a commission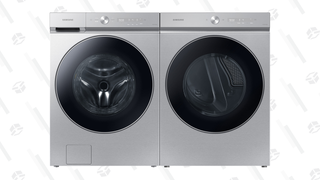 Get $500 back in credit
Last Chance: Samsung Bespoke AI Washer and Dryer Preorder
Clinton, however, has faced problems drumming up enthusiasm among this key demographic. In September, the Clinton Campaign was in "panic mode" because Democrats in the Ohio and elsewhere feared many black voters weren't inspired to come out and vote for the Democrat.
The Malones, though they bore out the Democrats' anxieties over enthusiasm, ended up showing up for Hillary Clinton.
Anastasia, 23, voted for Bernie Sanders during the Democratic primary. Voting for Clinton will likely maintain the status quo, she said, with evident frustration. As far she is concerned, Bernie was for Main Street; Clinton, in her mind, is too cozy with Wall Street to care about people like her.
"You can tell that she is trying to change it a little bit," Anastasia explained, "but I really don't believe she will."
Another Bernie Sanders supporter during the primary, Latonya Goldsby, 41, said she is voting for Clinton because she is the "lesser of two evils." And though Goldsby feels Clinton has the potential to be an effective president, she was still trying to reconcile democratic nominee's "superpredator" comments from the 1990s.
"I found it to be very vulgar and discriminatory against black youth in a time when things were so critical in black communities," she said. "I'm hoping that through her experience and her work in government, that she has grown to actually know some of these black youth that she deemed as 'superpredators' and get some feedback as to what they see as necessary in their communities and what they would like to see out of her as a president."
Other women Fusion interviewed in Cleveland on Election Day revealed similar apathy for Clinton. As in most parts of America, black women here will vote for the Democrat, but many will do so with deep reservations. Their enthusiasm doesn't remotely match their energy from 2008 and 2012, when their support sent and returned Barack Obama to the White House.
Among black voters, Obama's candidacy was always going to be a difficult act to follow.
"In addition to Barack Obama being the first black president, he also strategically engaged people in that process, and invested the resources to do it," said L. Joy Williams, chairwoman of Higher Heights, a non-profit organization that supports black women candidates for elected office. "He did didn't do street money, which is what you usually do, but he replaced that street money with enthusiasm and pure of heart participation for black folks, which Hillary doesn't have."
Wendy Smooth, a political scientist at Ohio State University, said an ineffective ground game in the state could harm Clinton's chances of winning. She also expressed concerns that the Clinton campaign hasn't adequately empowered black women here to turn out those record-breaking numbers of black people as Obama did in 2008 and 2012.
"It's one thing to get black women women voters to agree to go to the polls and even do early voting," she said. "But it is a different animal altogether to get black women to organize buses as they did in 2008 and 2012 at the end of Sunday services and move their fellow church members to the polls in an enthusiastic way."
When Jenniel Holley voted this morning, she reflected the enthusiasm gap, even as she voted for Clinton.
"At the end of the day, she's a politician," said Holley, 31. "She's going to tell us what we need to hear so we can get those votes in. I wanna have faith that she's going to do she says she's going to do." Holley gave a simple reason, widely shared among Cleveland's African American community, of why she voted for Clinton despite her reservations: "She's better than Trump."
A gap between enthusiasm for Clinton and the fervor that Obama generated, however, doesn't mean the 2016 nominee has no cheerleaders among the black women of Cuyahoga County.
Sharrone Rawlinson, 65, said Clinton has been treated unfairly and that her past has been scrutinized in ways that her peers have never experienced. Rawlinson said she cast her ballot for Clinton without any reservation. "Superpredators," the 1994 Crime Bill, and the recent email scandal are issues Rawlinson views as nothing more than distractions.
"What she did in the past ain't got got nothing to do with what she is doing in the future," she said. "I really don't care. She can't be no worse than these old, grey-headed white men that's been our president for a hundred years. She cannot do any worse than them."
Terrell Jermaine Starr is National Political Correspondent for Fusion. You can follow him on Twitter @Russian_Starr.