They're the same halos you see above sacred figures in religious art—except this artist adds the glowing discs around the heads of his gay, lesbian, bisexual and transgender subjects.
Gabriel García Román says he places his LGBT subjects in historically religious scenes because he wants the viewer to see them as powerful and noble. He calls his series of photographs "Queer Icons."
"My images are visually giving power to a group of people that are generally disempowered. I want young people to see these images and see them as an example of someone powerful and noble that they can become," Román told Fusion in a phone interview.
In western religious art, images of Jesus Christ, his saints, and Virgin Mother almost always include a halo. The halo is also seen in Buddhist and Islamic religious iconography as well as Australian aboriginal art.
G/O Media may get a commission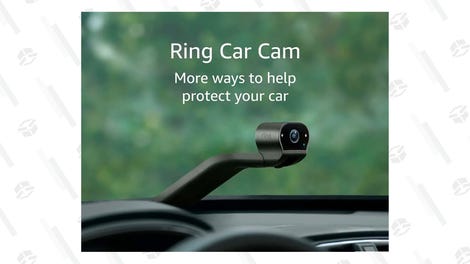 That history and context makes Román's work all the more powerful, all of his subjects identify as queer people of color.
"I want young people of color to see these images and see themselves in that same position and exude that energy out into the world," Roman explained. "Maybe something positive will happen with that."
"This project is also not only for my community but other communities so that they can see people in a different light," said Roman.
The majority of Román's subjects are activists and poets.
Román, 41, was born in Zacatecas, Mexico and raised in Chicago. He identifies as a multimedia artist and says he likes to add texture to his photographs. He takes the photographs, exposes them on metal plates and add colors through screen printing and a printing press.
Once he's printed the photographs he gives his subjects a photo and a Sharpie marker and asks them to write about their identity. He says he gives them no guidance beyond asking them to write about their identity—the people he's photographed have written about being queer, an immigrant, a person of color or having a disability.
"Usually when you see a portrait of someone you have to interpret who that person is based on how they're posing or how they're looking at the camera and I wanted to add another layer to that by giving [the subjects in my photographs] they're voice back," Román said.
Roman says he's photographed 30 different subjects so far for the "Queer Icons" series.
Román says he finds his subjects through personal connections and through online Facebook groups.
But earlier this year it was a big name curator of who found Román's work online. Yosi Sergant, a self-described community organizer known for commissioning artist Shepard Fairey to create the iconic Obama "Hope" posters, asked Román if he would be part of a group show centered around justice.
The show, called "Manifest Justice," brings a group of artists who call for "more accountability" and "more compassion, more dignity."
This weekend Román will be part of a group art show in Los Angeles with artists like Fairey and the street artist Swoon, all thanks to Román's Tumblr, where he shares his work.
He'll be bringing three of his queer icon halo prints to the city of angels.
(All images published with permission of the artist Gabriel García Román.)