Last October, when Balenciaga announced Vetements' head designer Demna Gvasalia as the replacement for Alexander Wang—who had a short two-year stint as designer for the legendary Paris label—there was excitement. Gvasalia, a buzzed about new Paris-based designer—known for his wearable conceptual approach to '90s grunge and mainstream streetwear—was getting a chance to bring fresh ideas over to one fashion's biggest houses.
Fast forward. Sunday saw Gvasalia's fall 2016 debut for Balenciaga. He delivered—somewhat. While Alexander Wang seemed to just reference the Balenciaga archives, Demna Gvasalia reimagined; he introduced new silhouettes while still referencing the past, showing what the Balenciaga woman would have in her closet today, with a nod to his own brand.
On the other hand: when Wang worked at Balenciaga, he included at least one model of color on the runway. Gvasalia included a mixture of agency models and street models, but zero models of color. At a time when diversity is one of the fashion industry's biggest problems, this is a step back.
Here are some looks from the Fall 2016 show, seen Sunday in Paris:
G/O Media may get a commission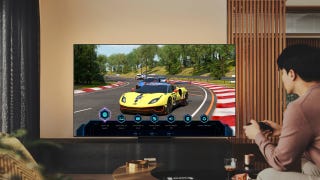 Up to $700 off
TVs, Cell Phones, Smart Home, and More
And here are models from the Fall 2015 show, last year:
To be fair, Alexander Wang didn't start including models of color in his womenswear runway shows until after his first collection debuted. But his fall 2015 Balenciaga collection opened with three black models, and featured nine in total.
Gvasalia has a history of excluding models of color from his runway shows. Since the debut of his brand Vetements (of which he is head designer—along with a group of anonymous designers) in 2014, he hasn't put a single model of color on his runway. Despite having an all-white show, some in the fashion industry called his Balenciaga collection "revolutionary." Vetements is known for finding cool kids on the street and hiring them to walk in their shows, and a Central Saint Martin student named Priyesh Patel made a great point on a ShowStudio panel:

"It's street casting, so I think it should be a lot easier for them to cast diverse models."
A friend of mine suggested that maybe since Gvasalia is from the Eastern European country of Georgia, where there are not a lot of people of color, he's just reflecting what he knows. That might be true, but that doesn't excuse his casting decisions, especially if the idea behind his brand is to create clothing that's relatable.
If you want people all around the world to buy your clothing, they should be represented in your show—especially when you're the creative director of one of fashion's oldest houses.
Gvasalia has been praised by fashion editors and was nominated for LVMH's young designer prize after just three seasons, but he became popular with young people on social media via two black celebrities: Kanye West and Rihanna. They were both seen on the streets wearing Vetement's Thrasher-inspired sweatshirt, which made even non-fashion people interested in the brand. But Kanye and Rihanna seem to be the only black people modeling his clothes.
As casting director James Scully—who is known for speaking out about fashion's diversity issues—said in an Instagram post: "The whole world is watching." Here's hoping Demna Gvasalia gets the message for next season.
Tahirah Hairston is a style writer from Detroit who likes Susan Miller, Rihanna's friend's Instagram accounts, ramen and ugly-but cute shoes.