On Friday, Whoopi Goldberg used The View as a platform to ask actor Jason Schwartzman for help in landing a role in an upcoming Wes Anderson film, in what seemed like a joke.
Whoopi didn't have any preference in terms of which film; the Academy Award-winning comedienne just wanted a shot. As she lamented in a put-upon Valley Girl accent, Wes Anderson doesn't, like, hire, like, a lot of people color for his films, so like, maybe, like Jason, who has been in like 5 of his damn films, could, like, pass her overly-qualified résumé on to the Academy Award-winning director for her? Like, thanks! Giggle, giggle.
Though Whoopi's dreads are bouncing to and fro, and the is audience laughing (uncomfortably?), it's important to remember that her groveling is actually valid, considering Hollywood's awful track record when it comes to diversity. While Schwartzman reviews Whoopi's résumé with wide-eyed disbelief, his on-air partner Adam Scott chuckles, "Can't you just hold up your Oscar and get anything you want?!"
It is at that moment Whoopi drops the Valley Girl façade: Her back straightens, she ceases to flit about, and her voice lowers as she shoots back, "I wish that were the case, baby." She's slipped into the cadence of Ghost's Oda Mae Brown, adding a head nod for emphasis; the audience roars in agreement. Schwartzman cuts in to say how influenced he is by the comedy legend; Raven Symone purses her lips.
G/O Media may get a commission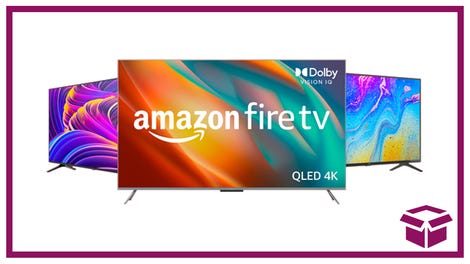 Ooh. stunning.
New Amazon Fire TVs
Dazed and Confused characterized Whoopi's call-out during the incident as "delicate" and "humorous." Whoopi may have jokingly used a funny voice to address this issue, but it's clear that she is actually seething.
Wes Anderson has cast people of color in his films: 2014's The Grand Budapest Hotel was centered around the ethnically ambiguous (as well as precocious and morally incorruptible) protagonist "Zero Mustafa," played delightfully by actor Tony Revolori, who is of Guatemalan descent. However, Anderson has never cast a black woman in any significant role; his brand of storytelling is white male-centric. Even Goldberg's Color Purple co-star, Danny Glover, was wildly underused in 2001's Royal Tenenbaums, save for the infamous scene in which a salty Gene Hackman provokes Glover's character with crypto-racist heckling.
Knowing this, Whoopi attempts to get Anderson's attention by calling on two white male actors whose careers, while impressive (and Jason Schwartzman is one of my favorite actors), hardly compare to her own. An Oscar does not ensure that she, a black actress, gets the same kind of access as the white guys. Whoopi alters her speech and her mannerisms to make this point: channeling a white female stereotype, dumbing herself down, feigning adoration for these white male actors helps her appear non-threatening. By subverting racial and gender stereotypes, Whoopi demonstrates how significant they are, how ideas of who is seen as a leading lady or valuable at the box office are racially charged.
While we all know Anderson has an unwavering devotion to nostalgia and details that make his films exquisite, the director still leaves room for modernity. He might communicate through vinyl records or mini typewriters, but the director is still speaking very much in the now. And as Goldberg alludes to, it would seem that more diversity would be the most striking of "visual tics and flourishes" he's imbued into his curated worlds.
Marjon Carlos is a style and culture writer for Fusion who boasts a strong turtleneck game and opinions on the subjects of fashion, gender, race, pop culture, and men's footwear.