Earlier this morning, The Wrap published an article claiming that Sony Music would end its working relationship with longtime producer Lukasz "Dr. Luke" Gottwald. In light of the recent accusations of sexual and emotional assault leveled against Dr. Luke by pop star Kesha, this seems like it could be a step toward releasing the musician from the hold of her alleged abuser.
This news comes after Kesha lost a preliminary injunction hearing in court in February, which denied her the option to leave her contract with her label, Sony, before a full trial, which is scheduled to take place in 2017. Lawyers for Sony indicated that the company would consider Kesha's request to record her next album without Dr. Luke's involvement. And now, less than a month later, a news site is reporting that this is seemingly the case.
It's worth noting, though, that the story published by The Wrap is not at all something to hang your hat on. Here is what The Wrap actually says in their story:

Sony Music is expected to end its working relationship with controversial producer Lukasz "Dr. Luke" Gottwald a year ahead of his contract's expiration, knowledgeable individuals have told TheWrap.
A couple key points to note here. The first is that this report relies on anonymous individuals who are "knowledgeable." A "knowledgeable" source could be anyone from a high-level executive at Sony Music to an intern for a law firm that had to transcribe a meeting. All that is to say, take the whole thing with a fist-sized grain of salt. (We reached out to both Sony and Gottwald's PR and will update this post if we hear back.)
The second, and probably more important, cause for skepticism is whether or not this would actually free Kesha from her contract with Dr. Luke. Dr. Luke's Kemosabe Records, a record label owned by Sony Entertainment, hosts more than just Kesha: Young star Becky G is signed to the label, and so is rapper LunchMoney Lewis, who is supposed to put out an album this year. All of these artists are signed to both Dr. Luke's Kemosabe Records and to Sony Entertainment, which means that where they will be signed if  Sony does cut ties with Kemosabe Records depends entirely on how the contract negotiations play out.

G/O Media may get a commission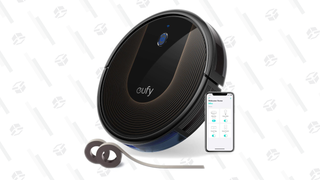 48% Off
Eufy BoostIQ RoboVac
It could mean that Kesha ends up free from Dr. Luke entirely in the long term, or it could mean she's stuck with him without the opportunity to work with the other producers that Sony was considering.
This early report seems to claim that negotiations for how the split would work haven't even happened yet. Those decisions would have to be made by Sony Music Entertainment CEO Doug Morris and his boss, Sony Entertainment CEO Michael Lynton. Most likely, even if Sony dropped Kemosabe Records tomorrow, Kesha would still be tied to her producer and alleged abuser Dr. Luke, who has vehemently argued for his innocence.
Whether this report proves true or not, Kesha is still a long, long way from being free.
UPDATE: Dr. Luke has denied the Wrap's report. ""Luke has an excellent relationship with Sony," Dr. Luke's attorney told TMZ. "His representatives are in regular contact with executives at the highest levels at Sony, and this has never come up."
Kelsey McKinney is a culture staff writer for Fusion.