Another day, another attack on Planned Parenthood. After failing to defund the health organization through Congress, conservatives have taken the abortion battle back to the states. Texas has cut all state funding to Planned Parenthood, and Ohio and Louisiana may soon do the same. The goal is simple: stop abortion.
But as supporters point out, most of the services Planned Parenthood provides aren't abortions. They're pap smears, breast exams, HPV vaccinations, STI testing and treatment, and prescriptions for birth control. And they're popular, too: Planned Parenthood estimates that 1 in 5 American women have visited an affiliated clinic for care.
It's pretty unlikely that Planned Parenthood will collapse overnight, but it never hurts to be prepared. Luckily for us, we have history to turn to. Back in the 1970s, feminists experimented with all kinds of self-directed gynecology!
In the early 1970s, like today, feminists believed that having control of their bodies was vital for having control over their lives. This meant women wanted to make medical decisions for themselves, particularly where sexual health was concerned—and that was a lot harder to do than it is today.
G/O Media may get a commission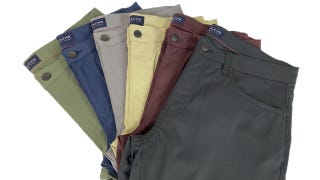 JACHS NY Fall Stretch Tech Pants
For one thing, before Roe v. Wade in 1973, many women couldn't choose abortion. While a few states had liberalized their abortion laws, most hadn't. Even in states that offered therapeutic abortion, women had to get the procedure approved by an "abortion committee." They didn't get to make the decision—the hospital did.
Similarly, although the birth control pill went on the market in 1960, doctors in many states would only prescribe the pill to married women, sometimes requiring permission from their husband. And to top it all off, information about women's sexual health was hard to come by. Feminists like those who published the groundbreaking educational book Our Bodies, Ourselves in 1970 were providing desperately needed information.
Many women were also highly critical of the "medical-industrial complex," which they suspected did little for health and a whole lot for the patriarchy. As Sandra Morgen, a professor of anthropology at the University of Oregon and the author of the feminist history Into Our Own Hands, told me, "The distrust [of doctors] was pervasive and completely legitimate. There was a lot of humiliation, disregard, disrespect."
In an era when the vast majority of OBGYNs were male, women complained that getting tested for STDs was onerous, that they were judged for doing so, and that their doctors "moralized unnecessarily" about birth control. And the contraceptive methods available weren't everything they hoped for, either. While women flocked to take the first iteration of the pill, it caused bad reactions, and the earliest version of the IUD wasn't that much safer. Feminists like Barbara Seaman, who wrote The Doctor's Case Against the Pill in 1969, campaigned for women's right to know more about the drugs they took. They wanted better options, more knowledge, safer choices.
Out of women's need for better options arose Gynecological Self Help, which many feminists referred to as simply "self help." The movement had nothing to do with unlocking The Secret and everything to do with helping women demystify their own bodies.
Women learned about "self help" through health-oriented consciousness-raising sessions, at feminist events, or through women's publications like the feminist newspaper off our backs, Ms., or The Menstrual Extract: An Irregular Periodical, the global newsletter for feminist "self help" clinics.
Thousands of women were involved in the "women's health" branch of the feminist movement to some degree—and a much smaller number were directly involved in the clinics, according to Morgen. Before Roe, feminists had created counseling services to direct women to providers, and in some cases, provided illegal abortion services themselves. After Roe, some founded clinics to provide woman-controlled, woman-directed health care. Morgen notes in her book that about 50 grassroots women-controlled clinics had sprung up by the mid-1970s.
If Planned Parenthood somehow does get shut down, here are a few of techniques that feminist "self help" clinics experimented with back in the '70s. While they win points for inventiveness, keep in mind that these techniques were definitely not intended to supplant medical treatment in the case of illness or emergency.

See your own cervix!
The gynecological "self help" movement officially began on April 7, 1971 at Everywoman's Bookstore in Los Angeles, according to women's health activist Carol Downer. There, a group of about 30 women associated with the National Organization for Women had gathered to discuss abortion. Some were covertly learning how to perform illegal abortions
Sometime before the meeting, a friend of Downer's had invited her to watch an IUD placement at an underground clinic in Santa Monica. During the procedure, Downer saw her first cervix. "I was flabbergasted," she told me when I visited the Los Angeles Feminist Health Center last year. "I already had four children by that point, but I knew absolutely nothing about this, no idea whatsoever of where my babies came from."
Downer took her new insight and a plastic speculum back to the NOW group. At that April meeting, she told the other women that she had something special to show them. Dressed in a long, flowing skirt, she climbed up on a desk, inserted the speculum into her vagina, and showed them her own cervix. Then she taught them how to do the same thing.
Many were just as flabbergasted as she had been. Ellen Frankfort commented in 1971, "It is, in fact, a little like having a blind person see for the first time—for what woman is not blind to her own insides?"
Cervical self-exam not only taught women what their bodies looked like, but also gave them valuable information about their reproductive cycles. Looking at your cervix, as Donna Handly wrote in Ms. Magazine in 1972, could tell you whether or not you were pregnant, about to begin menstruating, or suffering from an infection.
The idea spread like wildfire. A few months after the initial demonstration, Downer and fellow activist Lorraine Rothman presented cervical self-exam to thousands of women at the Los Angeles NOW Convention in August. In October, they started touring the country to teach even more women how to examine their cervixes, later traveling around the world to do the same. Over 2,000 women attended a "self help" clinic within the year of Downer's initial demonstration, according to authors Marcia Eymann and Charles Wollenberg.
"I think for a lot of women it started as a radical act," Morgen told me. "And then when it was done, it became more of a, How come this is the first time I've seen my cervix? It became a question and a sense of bewilderment. Why is this so new, why is this even radical?"
When I asked her why it was so new, she said it might have been because cheap plastic speculums weren't available before—or because no one really thought that heterosexual women should spend a lot of time looking at vaginas.

Yogurt for yeast infections
After they ended their nationwide tour, Downer and Rothman returned to Los Angeles, where they helped found the Feminist Women's Health Center in 1972 and continued to teach "self help." But not everyone welcomed the notion of women taking their health into their own hands.
In September of 1972, Downer and her colleague, Colleen Wilson, were arrested in what came to be known at the "Great Yogurt Conspiracy." The Los Angeles Times reported on October 3, 1972: "The charge was practicing medicine without a license. The issue was a vital one. For the first time that anyone knew of, a cornerstone of the movement—the right of women to know their bodies—had come into conflict with the law."
Police officers had placed the Health Center under surveillance a month or two before the arrests occurred, according to the feminist newspaper off our backs. Two undercover policewomen had infiltrated one of the "self help" groups, reported the Los Angeles Times. On May 11, they witnessed Carol Downer spooning yogurt into a woman's vagina to treat a yeast infection, and on September 20th, the police raided the Center, seizing sample IUDs, birth control pills, speculums, diaphragms, and a container of strawberry yogurt from the refrigerator—a staff member's lunch.
Colleen Wilson pled guilty to fitting a woman with a diaphragm and was fined $250. Downer, though, fought the charges. Her attorneys argued that yogurt was a well-known "home remedy," wherein the bacteria in yogurt fight the bacteria that cause yeast infections. Downer wasn't practicing medicine, just common sense.
The jury agreed. They acquitted Downer.

Menstrual extraction
Yogurt wasn't the most radical treatment the Feminist Women's Health Center encouraged. In 1971, Lorraine Rothman invented what she called the Del Em, a contraption that enabled "a radical new technique described as the first effective bridge between birth control and abortion," according to the Los Angeles Times.
The process was called, variously, menstrual extraction, minisuction, "the overdue treatment," and the "instant period." It never gained traction, in part because even feminists worried it could be dangerous—but at the time, some considered it a "last resort," according to Morgen.
A feminist named Lolly Hirsch explained in The Monthly Extract in 1973:
"Minisuction (menstrual extraction) is the passage of a thin, hollow plastic tube thru the vagina into the uterine cavity with the application of suction. The procedure takes 1 minute, is accompanied by a moderate menstrual-type cramp and has no dangerous side effects. The effect of the procedure is to remove most of the uterine lining (extracting the menstruation) thus preventing the development of any pregnancy that may have implanted in the lining."
"Self-help" advocates championed menstrual extraction as a "simple, safe, and non-traumatic" method of birth control. Del Ems were reasonably cheap and easy to make. The Los Angeles Times quoted a price as low as $15. Best of all, women could be trained to practice menstrual extraction on each other in a feminist clinic setting: no doctors needed.
Like cervical self-exam, many women who practiced menstrual extraction found it empowering. "No woman can know the empathy that flows through a group of women doing Menstrual Extraction…" wrote Lolly Hirsch in a 1976 issue of The Monthly Extract. "These moments are moments of being overwhelmed with the powerfulness of a WOMAN."
But doctors objected. They saw the procedure as potentially dangerous, especially in the hands of lay practitioners. Others called it "retroactive contraception," saying that it would discourage women from taking birth control before they missed a period. Some speculated that menstrual extraction might even be illegal, as it could constitute a very early abortion performed by someone other than a doctor. (In fact, menstrual extraction was based on abortion techniques developed by Los Angeles psychologist Harvey Karman, a controversial illegal abortionist.)
Many feminists were skeptical of the idea, too. They worried that menstrual extraction wasn't safe, that it could introduce germs into the uterus and lead to infection or infertility. They were cautious about testing the procedure on laywomen without any kind of medical oversight. Ellen Frankfort noted in her 1972 book Vaginal Politics, "Women can't rail against drug companies using them as guinea pigs and allow self-help clinics to do the same thing."
According to Morgen, menstrual extraction never really caught on—she described it as "more a political idea that was minimally practiced than a widespread practice." After the passage of Roe v. Wade in 1973, its popularity waned.

So now what?
Despite the fact that "self help" gynecology never made it big, the movement had a significant impact. "If you weren't part of the system before it changed, it might be hard to believe how different things are now than then, precisely because of the Women's Health Movement," Morgen told me.
Women demanded to be part of gynecology—and for the past 20 years, according to the Association of American Medical Colleges, they've made up about half of all OBGYNs.
But that doesn't mean the revolution is over. Last month, the Los Angeles Times reported that defunding Planned Parenthood would mean denying as many as 650,000 women health services. Although there are still a few feminist health clinics around, there aren't enough left to serve the millions of women who need care.
It may not be enough just to defend existing providers of reproductive healthcare such as Planned Parenthood. Feminists—whether they're doctors or patients—may have to examine the entire system and ask, again, how it might be remade to better serve them.
Samantha Meier is a freelance writer, researcher, and editor. She is currently at work on a history of the underground 1972 comix anthology Tits & Clits.