The Republican-led Senate Judiciary Committee has rightfully been criticized for its handling of the sexual assault allegations against Brett Kavanaugh. This has included Sen. Chuck Grassley's rejection of an FBI investigation similar to the one that took place after Anita Hill alleged that she was sexually harassed by Clarence Thomas; the committee's decision to effectively ignore Deborah Ramirez, Kavanaugh's former Yale classmate who claims he assaulted her at a party when the two were freshman; a refusal to compel Mark Judge (Kavaanaugh friend and potential witness to Christine Blasey Ford's alleged assault) to testify; and a transparent willingness to try and ram Kavanaugh's nomination through no matter what happens today.

With the Democrats' chances of winning the House seemingly growing better every day, at least one House Democrat has floated the idea of doing a proper investigation of Kavanaugh should he be confirmed. (It's also worth pointing out that even if Kavanaugh isn't confirmed, he currently sits on the U.S. Court of Appeals for the D.C. Circuit, possibly the second-most powerful court in America.)
Rep. Hank Johnson, a House Judiciary Committee member and current ranking member on the Judiciary Subcommittee on Courts, Intellectual Property, and the Internet, told the Intercept yesterday that if Democrats win the House, he'll push for an investigation of Kavanaugh.
"His background is fair for consideration, both before he is confirmed and, if he should be confirmed, we would be duty-bound to follow-up on any blemishes on his record that were not fully discovered prior to his confirmation. We would owe that to the American people," Johnson said.

G/O Media may get a commission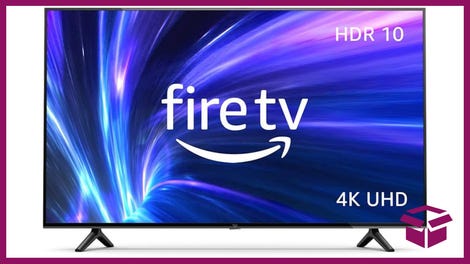 42% Off
Amazon Fire TV 50" 4K Smart TV
Less clear is what Senate Democrats would do, in the more unlikely event that they win control of the Senate.
Sen. Dianne Feinstein, the ranking member on the Senate Judiciary Committee, initially withheld Christine Blasey Ford's letter even from her fellow Democrats on the committee, which reportedly "created tension." Earlier this week, however, Feinstein said that the confirmation process should be paused for an FBI investigation. We reached out to Feinstein's office to ask if she plans to pursue a more thorough investigation should she become the chair of the Judiciary Committee next January (and that presumes that she wins her surprisingly tough re-election fight in California).
Sen. Richard Blumenthal, a Democrat from Connecticut who sits on the committee and also serves as the ranking member of the Senate Subcommittee on Oversight, Agency Action, Federal Rights and Federal Courts, has been slightly more vocal about this. "The Senate Judiciary Committee must now give these allegations the serious weight they deserve. They must be fully and fairly investigated," Blumenthal said when the Blasey Ford allegations became public. "Unquestionably, the Kavanaugh confirmation vote must be delayed."
And earlier this week in an interview with the Republican-American newspaper, Blumenthal called for an FBI investigation. "The United States Senate cannot in good conscience vote on this nominee without a full, fair FBI investigation, and opportunity for the sexual assault survivors to be heard respectfully and for other witnesses to be considered as well," he told the paper.
We've reached out to Blumenthal's office to ask if he would investigate Kavanaugh in this capacity should the Democrats win the Senate, and will update with any response we receive.
At the very least, however, at least one Democrat appears poised to investigate Kavanaugh if his party is control of the House next year. "This whole process has stunk to high heaven," Johnson told the Intercept.

Correction: This article erroneously referred to Blumenthal as a Democrat from Delaware. He is a Democrat from Connecticut.