El Salvador's Catholic faithful today are celebrating news from the Vatican that Pope Francis has decreed former Salvadoran Archbishop Oscar Romero was killed as a martyr, putting him on the doorstep to sainthood.
Romero, an outspoken critic of El Salvador's brutal military regime, was gunned down by a pro-government death squad while saying mass on March 24, 1980. Pope Francis today decreed Romero a martyr because he was killed for his religious beliefs.
Salvadoran faithful have long called the slain priest "Saint Romero," but now the honorific is a lot closer to becoming official.
"The voice of the people was heard; the people of El Salvador today are filled with joy, enthusiasm and hope," Auxiliary Archbishop of San Salvador José Gregorio Rosa Chávez told Fusion today in a phone interview. "Romero was a saint whose legacy transcended borders."
G/O Media may get a commission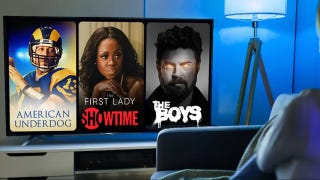 UNDER $1
99¢ Prime Video Channels
Though Romero was canonized by the people of El Salvador, his relationship with the Vatican was notoriously strained for his preferential option for the poor. On numerous occasions, the liberation theologian sought an audience with Pope John Paul II, but was consistently rebuffed.
Romero's beatification by Latin America's first pontiff is about finally setting things right after more than 30 years, according to former Catholic priest and fellow liberation theologian Blasé Bonpane, a former Maryknoll priest who served in neighboring Guatemala in the 1970s.
"Francis is righting a wrong," Bonpane told Fusion. "If anyone should be canonized, it's Romero."
Bonpane said Romero's road to sainthood could be tricky going for the pope. Canonizing the rebellious former priest could force the church to revisit the problem of "infallible dogma" established nearly 1,700 years ago by the Council of Nicea. In other words, it's an old issue that many in the Vatican probably aren't eager to get into now.
"Pope Francis has got himself in a bit of a trap with Romero, but it's a trap that's long overdue," Bonpane said. "I think this is an opportunity to turn over an old stone. But there is a fear of facing history."
The 85-year-old former priest says Romero's canonization, which could happen in a month or 50 years, could be a "redeeming moment for the Church to deal with old dogma."
"This is an opportunity to deal with reality and most institutions don't want that to happen," said Bonpane, who no longer considers himself in good standing with the Catholic Church.
Ultimately, however, Bonpane thinks that's unlikely to happen and Romero will be canonized in a manner that doesn't shake the Vatican down to its foundation.