Native American tribes can now grow and sell marijuana on reservations — but whether to enter the emerging market could be a daunting choice.
Cannabis represents a huge economic opportunity for tribes, which maintain the right of self-government. Few, however, have publicly embraced the idea.
Here's what you need to know about marijuana on tribal lands.

1. The Department of Justice said tribes can move forward with legalization
The federal government considers federally recognized Indian tribes "domestic dependent nations," which means they have the right to govern themselves.
With that in mind, it makes sense that Justice Department told tribes in December that they could grow and sell marijuana on their lands without the feds getting in the way. Basically, the message was "You can decide for yourselves."

2. It's more of a yellow light than a green light
The federal policy doesn't wholeheartedly allow marijuana legalization — it comes with restrictions (sales to minors, for example) that would lead the U.S. government to intervene.
G/O Media may get a commission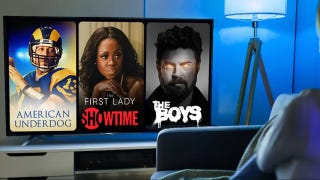 UNDER $1
99¢ Prime Video Channels
Not every tribe may be able to get into the game, either. At the time of the announcement, the U.S. attorney in Oklahoma City said he had a different interpretation of the memo than what had been reported in some media outlets. He thinks pot will only be permitted in states where marijuana is already legal.
Hilary Bricken, a cannabis-industry lawyer who is helping organize a February meeting for tribes to discuss pot, said that whether a tribe can proceed with legalization may depend on the views of the U.S. attorney in their state.
"It's not a green light," she said. "The feds are going to have to approve these things before they go forward."

3. One tribe is already trying to move into the legal pot business
A northern California community is already taking the plunge. The Pinoleville Pomo Nation in Mendocino County plans to break ground on construction of an indoor grow facility in February, making them the first tribe to enter the medical marijuana business.
To make the project happen, the tribe is contracting with FoxBarry Development Company, which works with Native American groups on everything from farming to casinos, and United Cannabis, a medical marijuana company. Once the $10 million facility is completed, Pinoleville Pomo Nation plans to sell to authorized medical cannabis users and dispensaries in California.
The tribe does not plan to open a dispensary or retail store on their land, which will help avoid any potential conflict with law enforcement.
Victor Cruz, a spokesperson for FoxBarry and United Cannabis, said that although Pinoleville is a small tribe — just 250 people — they might set a trend.
"Ever since this went public, they've received calls from over a dozen other tribal nations all over the country, including states where there are no medical marijuana laws on the books," he said. "There's a lot of interest in other tribal lands to do the same."

4. Not so fast. Lots of tribes oppose the idea of legal cannabis
Some tribes view marijuana as a dangerous vice and have worked with U.S. law enforcement to keep their lands cannabis-free. In 2012, for instance, the Hoopa Valley Tribe in California coordinated with federal and state officials to eradicate an estimated 26,000 marijuana plants.
With that in mind, some Native American leaders were surprised to hear that the Justice Department would allow tribes to enter the marijuana business. At the time of the announcement, Troy Eid, a Denver attorney and chairman of the Indian Law and Order Commission, seemed baffled.
"There has been no consultation between the administration and tribes as to what they want to do," he told Bloomberg News. "It's a very unusual gap in how this president has approached things."

5. It could still be a huge money-making opportunity
Despite trepidation about cannabis, it has the potential to follow the trajectory of another huge Native American money-making endeavor: gambling.
While gambling certainly isn't a panacea for economic woes among Native Americans (one in four still live in poverty), it can bring great wealth to communities who run successful casinos.
One of the most well-known casino proprietors, the Mohegan tribe in Connecticut, earned roughly $15 million in gambling profit during the first quarter of the 2015 fiscal year, for instance. But there's a catch — competition from online gambling and state-sanctioned slots have taken a bite out of their business, not to mention years of a stagnant economy.
Marijuana could be an attractive side business. In Colorado, sales have soared in the past year, hitting new highs month after month. Tribes could potentially take advantage of markets in states that aren't ready to legalize, but are tolerant enough to allows sales to move forward on reservations.
The Mohegan Tribe, for one, appears interested in the idea of legalized marijuana. A statement from the community in December said leaders "are looking at numerous opportunities to diversify into new emerging markets and products that promise to sustain their government for years to come."
Ted Hesson was formerly the immigration editor at Fusion, covering the issue from Washington, D.C. He also writes about drug laws and (occasionally) baseball. On the side: guitars, urban biking, and fiction.