For the past 50 years, U.S. foreign policy towards Cuba has puttered along like a '57 Chevy, only with significantly fewer tune-ups. But policy wonks in Washington are suddenly expectant that President Obama — emboldened by his recent executive action on immigration — is ready to roll up his sleeves and get under the hood to overhaul the engine on his own.
Veteran Cuba expert Richard Feinberg, the former director of Latin America for the National Security Council under President Bill Clinton, says there are "heightened expectations" that Obama could act unilaterally on Cuba. And the day marked with a red X on Feinberg's calendar is April 10, when all the leaders of the hemisphere will gather in Panama for the Summit of the Americas.
"President Obama is working his executive powers and is seeking to secure his historical legacy, especially among his progressive political base," Feinberg told Fusion. "Latin American nations are leveraging the April Panama Summit as a decision-forcing event to motivate U.S. decision makers to focus on Cuba and seize the historic opportunity."
But the key figure to any meaningful shift in U.S. policy is currently wasting away in a jail cell in Havana. Former U.S. contractor Alan Gross today notched his 1,825th scratch mark on the prison wall to commemorate his five-year anniversary of incarceration on charges of spying on the Cuban government. The USAID subcontractor, sentenced to 15 years in prison in 2010, has reportedly dropped 100 pounds, lost five teeth and gone mostly blind in his right eye, according to his family.
G/O Media may get a commission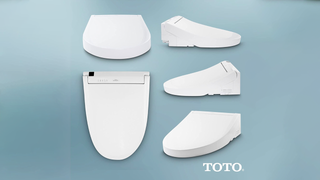 44% off
Toto Washlet Electronic Bidet Toilet Seat
"Alan is resolved that he will not endure another year imprisoned in Cuba, and I am afraid that we are at the end," his wife Judy Gross said today in a prepared statement. "It is time for President Obama to bring Alan back to the United States now; otherwise it will be too late."
The U.S. is also holding Cuban prisoners on charges of espionage and conspiring against the state. Two of five men known as the "Cuban 5" have already been released.
Gross has become Cuba's main bargaining chip, and also the single biggest impediment to the further normalization of U.S. relations with Cuba — something Obama started tentatively in 2009. If the Castro brothers' regime is willing to release the former aid worker, Obama's hands could be freed to massage Cuban relations.
The president has already hinted that he wants to try something new. During a fundraiser in Miami late last year, Obama said, "Keep in mind that when (Fidel) Castro came to power, I was just born. So the notion that the same policies that we put in place in 1961 would somehow still be as effective as they are today in the age of the Internet and Google and world travel doesn't make sense."
But there has been little shift since then, and the doesn't-make-sense strategy continues to define policy.
Many, however, say the time for serious change is now, as Raul Castro's 2011 economic reforms slowly take root and a graying Obama ponders his legacy — including ways to repair his unremarkable record on Latin America.
Some of those calls for change are coming from unlikely sources, such as Republican Sen. Jeff Flake of Arizona.
"My recent trip to Cuba has only reconfirmed the necessity of modernizing our failed policy toward the island," Flake said after returning from a trip to the island earlier this month. "It's time to take commonsense steps to support these entrepreneurs, expand the participation of U.S. businesses in the Cuban economy, and lift the ban on non-Cuban American U.S. citizens traveling to the island."
Flake's recommendations echo those of a group a 44 former ambassadors, politicos, business leaders and retired military brass that wrote an open letter to Obama several months ago urging him to use his executive authority "at a time when public opinion on Cuba policy has shifted toward greater engagement with the Cuban people while continuing to pressure the Cuban government on human rights."
The Obama administration's early moves to ease relations in 2009 —lifting the travel ban for Cuban-American families, expanding remittances and enabling sanctioned travel for more U.S. citizens — has already started a process of "normalization of human relations that is unstoppable," says Carlos Saladrigas, chairman of the Cuba Study Group.
Travel and remittances are helping to foster personal connections between Cubans on the island and those living in the diaspora. More than 300,000 Cubans travel to the island each year as tourists, and members of the Cuban expat community send more than $3 billion back to family members each year, fueling investment in the country's budding private sector that now has more than half a million registered small business owners, according to the government.
The strengthening ties have had a "tremendously positive impact" on Cuba's emerging private sector, but have also served to "soften some of the more hardline attitudes" both on the island and in Miami, Saladrigas said.
But people-to-people relations alone aren't enough to thaw bilateral relations, or solve all of Cuba's economic woes, which are exacerbated by the country's perilously close ties to Venezuela, the hemisphere's leading basket case. To really spark sustainable growth, economists say Cuba needs deep institutional reforms and a plan for currency unification — a pending task that World Bank economist Augusto de la Torre calls "the big elephant in the room."
The other elephant in the room is the U.S. embargo, which is too heavy for Obama to lift without the help of Congress.
Still, the call is growing louder for Obama to focus on what he can do, rather than lamenting what he can't. People on both sides of the Florida Straits can do their best to improve relations without their governments' full cooperation, but in the end the politicians need to get on board.
"The up and down of U.S.-Cuban relations still follow policy," says María Dolores Espino, a Cuban-born professor of economics at St. Thomas University in Miami. "Policy never becomes irrelevant."
Tim Rogers, Fusion's senior editor for Latin America, was born a gringo to well-meaning parents, but would rather have been Nicaraguan. Also, he's the second hit on Google when you search for "Guatemalan superhero." Tim was a Nieman Fellow in 2014.