You can already sample IPAs at Duane Reade, and fill your growler at Kroger supermarkets. Now it looks like you soon may be able to get lit at Target.
USA Today's Hadley Malcolm reports that the Minneapolis-based megachain has recently applied for liquor licenses at a location in downtown Chicago. While you can obviously already buy booze at Target, Malcolm specifies that the company applied for "a Consumption on Premises" liquor license.
Target did not respond to requests for comment. (THERE IS ALSO NO INFORMATION INDICATING ALEX [FROM TARGET!!!] IS INVOLVED—YET.) But CEO Brian Cornell alluded to the concept on the company's most recent earnings call:

[Localization] is still a very nascent effort for us. We're in one market, a handful of stores, in Chicago, but we've really been focusing on a handful of areas where we recognize we need to change our assortment, change our presentation, be more relevant and really recognize the needs and the demographics of these local markets.

So, there is a handful of categories I might list up front, one is craft beer and really making sure that in a category like craft beer we have locally relevant items and we recognized that even in a market like Chicago those need to be tailored neighborhood by neighborhood. So we have looked at specialty foods. We have looked at categories like craft beer.
Malcom writes that Target also says it is testing "a new cafe concept" that would see in-store versions of more upscale fast food chains like Freshii and even an Italian restaurant.
The news is another development in the company's restructuring—Target also just announced it would lay off 235 tech employees at its Twin Cities headquarters, along with an additional 40 workers in India. It is also rounding its nine-month anniversary of shutting down all its operations in Canada.
G/O Media may get a commission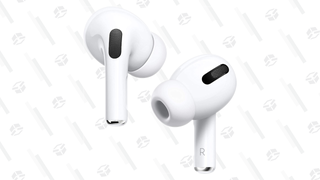 28% Off
Apple AirPods Pro Wireless Earbuds
In any event, the best and most obvious name suggestion we've seen for the new booze table is TarBar, from CityPages. Let us know if you have any other ideas.
(h/t Grub Street)
Rob covers business, economics and the environment for Fusion. He previously worked at Business Insider. He grew up in Chicago.