At Northeastern University in Boston, more than 300 unionized low-wage workers are set to go on strike this Wednesday if they don't reach an agreement with the school. Also scheduled to appear at Northeastern University this week: Bill and Chelsea Clinton. Will the Clintons cross a picket line?
There is a famous anecdote about Bill and Hillary Clinton crossing a picket line at Yale on their first date in 1971—easy foreshadowing for a couple whose political careers came to define triangulation. But in 2017, "the Resistance" is energized, the Clinton family's political future is very much in doubt, and crossing a picket line in order to conduct an event for the Clinton Foundation would be a very, very bad look.
The union in question is Boston's Local 26, which represents hundreds of cafeteria workers at Northeastern who have been bargaining for better pay and health care for months. According to the union, these workers on average earn less than $22,000 per year, a salary that would place them under the poverty line for a family of four. The union is asking for salaries of $35,000 per year. Local 26 president Brian Lang acknowledges there is still a "significant gulf" between the union and the school's positions. Bargaining will continue through Tuesday. If a deal is not reached, a strike would begin this Wednesday.
On Friday, the Clinton Foundation is scheduled to hold its tenth annual "CGI University" event at Northeastern. The event will "bring together more than 1,100 innovative student leaders to make Commitments to Action in CGI U's five focus areas: Education, Environment and Climate change, Peace and Human Rights, Poverty Alleviation, and Public Health." Bill Clinton is the keynote speaker. As Lang points out, these unionized workers set to go on strike over low wages and health care benefits are fighting for the very Human Rights and Poverty Alleviation and Public Health that the Clinton Foundation's event says it will be focusing on. Lang says that he has spoken to the foundation "at a very high level" and made them aware of the possibility of a strike, but that no firm commitments have been made so far. We have contacted the Clinton Foundation for comment, and will update this story if and when they respond. A Northeastern University spokesman sent us a statement saying "After months of good-faith negotiations, it is Northeastern's understanding that its food service vendor, Chartwells, has offered to increase wages for dining hall workers by 27 percent over the next five years. This proposal ensures that all food service workers will receive a pay raise, and all will earn at least $35,000 annually within three years... It is the university's hope that in the coming days union leaders and Chartwells will reach an amicable agreement."
If the strike happens—and barring a last minute settlement, it will—the Clintons will face a simple choice: Cross a picket line to attend their foundation's event, or don't. There was a time, a couple of generations ago, when the idea a major political figure on the left crossing a picket line would have been absurd. It would not even have been a consideration. It would have been taken as a thumb in the eye by millions and millions of union members and sympathizers across America. Morally, the case today is exactly the same; politically, the calculation may have shifted, as union influence, even in Democratic Party politics, has waned. Still, "never cross a picket line" is a basic rule of lefty solidarity that applies to political royalty and commoners alike, right up there with "give a hoot, don't pollute" and "pay your nanny a living wage." It's common decency. Even if consciously breaking this rule is no longer political suicide in practice, it really should be.
G/O Media may get a commission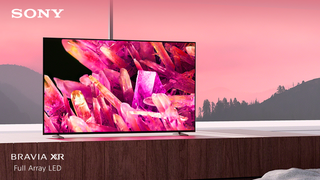 $400 off
Sony 55 Inch 4K Ultra HD TV X90K Series
The Clintons can certainly lean on the school to reach an agreement with the workers. If it still comes to a strike, a public refusal by Bill and Chelsea to cross a picket line would be one of the most encouraging, meaningful things the Clinton family has done for workers in years. We'll find out soon enough.
UPDATE: Looks like we won't get the chance to find out—the union reached a tentative contract agreement Monday night, which should avert a strike.